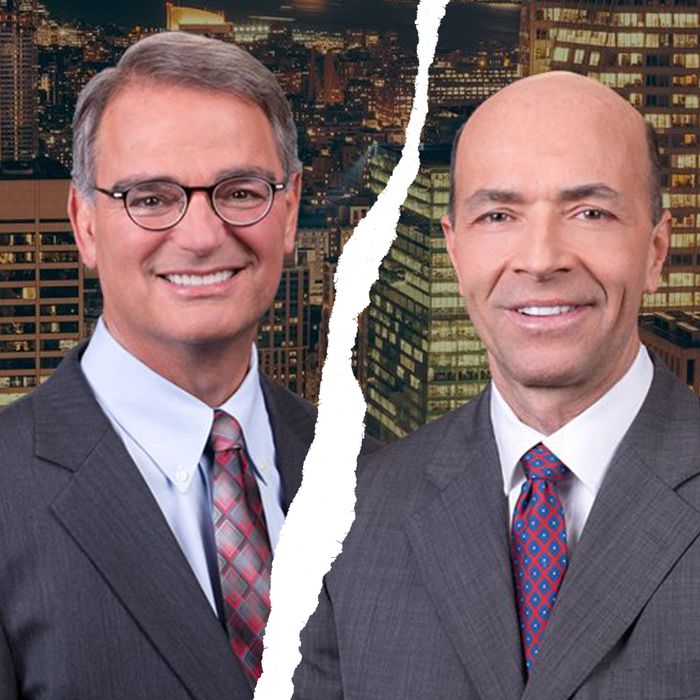 Cellino & Barnes, injury attorneys.
Photo: MirageC/Getty Images
New York, New York: the city that never sleeps, because we always have the Cellino & Barnes jingle stuck in our heads. Over the years, the dulcet tones of the personal-injury attorneys' ads — culminating in their phone number, 800-888-8888 — have become a beloved local stalwart. Until May, that is, when we learned that Ross Cellino and Stephen Barnes were tragically breaking up. There were a lot of difficult questions: What caused the professional split? Who would get to keep the jingle? Does love even exist? Throughout 2017, their feud only escalated and grew all the more vicious.
Here, we walk through how Cellino & Barnes may soon just be Cellino … and Barnes.
May 2017: Cellino Sues Barnes
On May 10, Ross Cellino Jr. sues his long-time partner, Stephen Barnes, to dissolve their firm, which has offices throughout New York State and in California. The next day, Cellino & Barnes (the firm) release a statement saying they'd keep operating as normal and fighting the dissolution papers. We are blindsided by this terrible tragedy.
June 2017: We Learn That They've Been Unhappy for a Long Time
A petition is released, revealing that Cellino and Barnes have been fighting with each other for a year plus. Per Gothamist, they clashed over "managing the business, employees' compensation, which clients they take on, expansion, how to practice the law, and marketing" — as well as Barnes refusing to let Cellino hire his own daughter. Why didn't we see this coming?
July 2017 : Barnes Wants a Restraining Order
On July 24, Barnes requests a restraining order against Cellino after alleging that he's trying to poach lawyers and cases from Cellino & Barnes. Per the Buffalo News, Barnes also accuses Cellino of something that's frankly very hurtful:
"Another statement that Ross made to the attorneys and employees during his pitch was that the 'Cellino' name was 'better' than the 'Barnes' name — analogizing our firm to Harley-Davidson and telling people 'no one ever calls their motorcycle a Davidson."
The next day, Cellino files new papers against Barnes alleging they "simply cannot work together." He also claims that Barnes is "bullying" attorneys into declaring loyalty for him:
"When one attorney refused to acquiesce, respondent Barnes called him a 'f—ing coward and vowed that respondent Barnes 'will remember this."
Barnes doesn't show up in court later that week, the day he loses his request for a preliminary injunction in the case.
The month wraps up with some Cellino & Barnes street art meant to help us heal.
August 2017: We Learn That They're Rich
The New York Post reports that Cellino and Barnes have still made $2 million each since their legal battle kicked off in May and "raked in $20.75 million total in 2015 and 2016." Between this and her newfound bingeing of The Good Wife, this writer wonders if she should've just gone to law school.
Cellino also files court papers in Delaware to try to stop Barnes from using the jingle for California clients, since Barnes owns all three Cellino & Barneses (Cellinos & Barnes?) out there.
September 2017: We Use Yelp
We learn that the Cellino & Barnes Manhattan office has exactly one (1) star on Yelp.
October 2017: Their Breakup Goes Through in California
The Cellino & Barnes offices in California are no more — now they're just identified as The Barnes Firm. Californians will never again hear the sweet, sweet sounds of "800-888-8888."
Later in the month, Cellino files more papers against Barnes. A special council to the firm goes on record saying that "the toxicity level" in some offices "has exploded" because of the partner dispute.
November 2017: Barnes Says Cellino Threatened to Burn the Place Down
On November 17, somebody sends a suspicious package filled with white powder to a Cellino & Barnes office in Buffalo. It is tested and cleared by police.
Post-Thanksgiving, Barnes files court papers claiming that Cellino threatened to burn the law firm down. Specifically: "I don't give a f—, I will burn the place to the ground and start over with one lawyer." Damn, Cellino!
December 2017: Barnes Still Loves Cellino
Barnes spends $900,000 on a new phone number: 800-800-0000. Eh, we've heard better.
And despite all this fighting — Cellino allegedly threatening to burn the firm down, Cellino allegedly insulting Barnes's name — Barnes still wants to find a way to keep the band together. "Ross has been my friend for over 25 years. I know we could still work together for the benefit of our clients," he told the Buffalo News. "We've built something amazing together … It would be wrong to break that up."
We're not crying, you're crying.