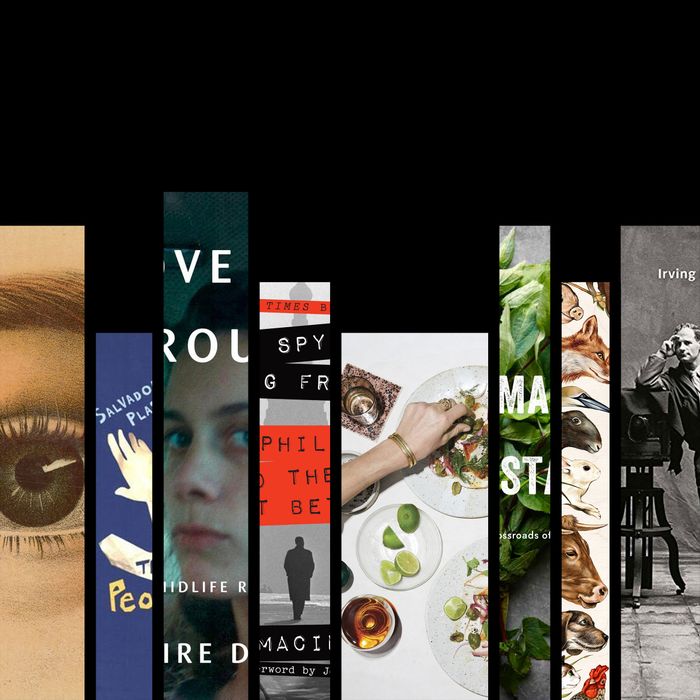 This December, we're thinking about the kind of books we'd like to give as gifts, from stylish cookbooks and coffee-table books to essay collections we just can't help but share. Check out all the books we've recommended so far here.
For Your Most Stylish Friend
Released during the Metropolitan Museum's retrospective of Irving Penn's work last spring, this is my favorite photography book of the year. The perfect gift for a stylish museumgoing friend — I brought it to a wedding shower and the bride loved it. A fun fact to share with the recipient: Marlene Dietrich, Pablo Picasso, a London fishmonger, and Peruvian kids all posed in front of the same gray theater curtain shown on the book's cover — it was Penn's signature backdrop for 50 years. — Catie L'Heureux, associate managing editor
For Uncles in Need of Empathy
Malcolm Harris offers up an exciting, persuasive argument that young people are not, in fact, monsters. In his analysis, the familiar caricature of a helicopter-parented, social-media-addicted generation makes a lot more sense when you consider the economic reality that today's 20-somethings — stuck on a treadmill of student debt and uncompensated labor — have inherited. An excellent gift for NPR-listening elders who appreciate a good debate and could use a little sympathy for the millennial. — Molly Fischer, features editor
For Animal Lovers of Any Age
I'm big into giving coffee-table books as holiday presents, especially to the parents and grandparents in my life. The nice thing about Do Unto Animals, the beautifully illustrated guide to creatures great and small written by animal-rights activist Tracey Stewart (wife to Jon Stewart), is that it works for people of any age. The book makes a convincing but not scold-y case for living kindly alongside all species, and a portion of its proceeds are donated to Farm Sanctuary, a rescue and advocacy organization for farm animals. — Jessica Roy, news editor
East Village–based artist John Derian collected prints of fruits, portraits, maps, intimate love letters, and calligraphy over his years of traveling and had them printed in this satisfyingly heavy and large book. I keep my copy next to my bed, and every time I flip through it I get new ideas about collecting and repurposing my own photos and papers. It's better than Instagram: The quality of the paper and ink are so magical that I started covering a wall of my room with the strange pictures (and I'm not alone). — Emily Sundberg, Instagram editor
For Someone Who's Had a Rough 2017
Never before has there been such a need for beautiful portraits of puppies — and luckily Elias Weiss Friedman (whose Instagram account, @thedogist, you likely already follow) has filled that void with his new book. The Dogist Puppies is a coffee-table book full of images of young canines, and, in my opinion, it's the perfect gift for anyone in need of a cute antidote to the past year. — Lisa Ryan, staff writer
For the Friend Who Won't Stop Talking About Their Saturn Return
This stunningly beautiful work of magical realism in which Saturn (yes, the planet) features as a major character is without a doubt the book I recommend the most. And what better way to recommend something than to just buy it for someone? —Gabriella Paiella, senior writer
Just as delightful as her popular Hark! A Vagrant, Beaton's picture book is similar in plot to the overrated Boss Baby but about a million times more charming. Get this for your baby-curious friend, get this for your friend noodling with the idea of a second child, get this for your friend deep in early babydom. Get this for yourself, whether you have a baby or not. Read King Baby in bed and revel in his glory. All hail King Baby during that first read, and, should your own tiny ruler demand it so, all hail King Baby and his infinite power of entertainment during the 11th, 60th, and 101st readings.  — Jen Gann, parenting editor
The women of the Cut can't stop talking about how much they love this book and its author, Alison Roman. I refuse to buy cookbooks for myself (I never cook) but this is maybe a perfect cuffing-season gift. Not only does it say, "Feed me," but also, "Let's never leave the house." That I can get behind. — Emilia Petrarca, fashion news writer
This nonfiction thriller about Kim Philby, the senior MI6 officer who worked as a Soviet agent during the Cold War, combines all of my favorite things: secrets, day-drinking, and carefully worded burns. It includes lines like "Claude loathed music, which gave him indigestion," and "Sam Brewer enjoyed discussing Middle Eastern politics with Philby; Philby enjoyed sleeping with his wife." Reading this book makes me want to wear silk robes and smoke slim cigarettes and enjoy languorous, three-Martini lunches, but I suppose giving it as a gift is the healthier option. — Madeleine Aggeler, staff writer
Back when I was a child, no one could even point to Burma on a map, much less understand my ties to the country and its culture. Even today, I can't quite explain what makes the food so amazing. My best approximation is by describing it as somewhere between India and Thailand, which makes sense based on the country's geography. Now I can just recommend this book that features the recipes of the much-beloved San Francisco restaurant Burma Superstar. Reading through the owner's history is like reliving my own upbringing (we're both ethnic Chinese by way of Burma) but really, it's all about the delicious dishes. Stuff like mohingna (a catfish soup eaten for breakfast), ohno khow swe (curry chicken noodle soup), and let thoke (a carb-filled, tangy tamarind and lime salad) are more than just my favorite childhood foods — they're what I want to teach others about the country's rich culture. A great gift for the adventurous home cook who wants to attempt more than your standard internet recipe but isn't ready for molecular gastronomy. — Diana Tsui, senior fashion market editor
From the author of Poser, Dederer's second memoir is a breezy ode to what she calls the "glorious, dirty" world of sex. From her years as a teenage "pirate slut" to her 40-something reawakening, Dederer tells a personal tale, with writing that is cockeyed, experimental, and socially observant. Example: an A–Z of her miserable days at Oberlin (A Is for Acid, C Is for Chlamydia). This jam-packed memoir would make a good gift for anyone who appreciates real talk about sex, especially when mixed with a side of humor and a sly send-up of midlife in American Bohemia. — Eliza McCarthy, senior copy editor
If you buy something through our links, New York may earn an affiliate commission.