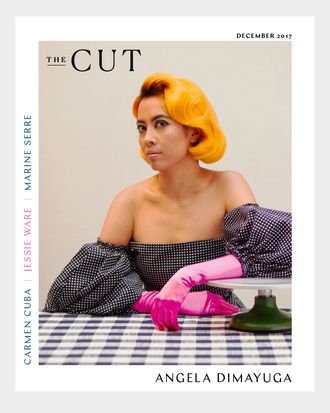 Photo: Lia Clay. Styled by Rebecca Ramsey.
I tend to follow recipes in about the same way I would read the Bible — as suggestions, to be interpreted however they suit me. Recipes make me feel like I could get things under control if I really wanted, like if I followed the rules, the future would be golden and perfectly seasoned. In practice, though, every time I peruse an ingredients list, I shut the book and go my own way. Not unlike Satan, I have a lot of fun. I also sometimes burn things.
Over the years, I've made many sprawling meals and small dinners — and in the process, I've acquired a taste for chaos. The best parties are unceremonious. I love a kitchen where people are in and out, with music playing and kids sticking their fingers into cakes. I like to eat olives and drink Lambrusco while I cook. I love being a total mess up until about three minutes before guests start ringing my doorbell, then throwing on a caftan, a pair of hoop earrings, and drinking more Lambrusco. I love making one giant sandwich that feeds ten people. I love clementines for dessert and cheap flowers arranged with conviction. My favorite get-togethers are potlucks, or big, communal picnics. I love it when people serve themselves and sit on the floor. I love a brunch that starts at noon and ends at midnight when your last friend finally stops smoking weed, and you leave all the dishes for the morning. I love it when things aren't balanced and you wind up with too many grains or side dishes. Everything should be eaten out of bowls. When I die I want my kitchen in hell to be entirely filled with bowls.
This month, the Cut's cover woman is the chef Angela Dimayuga. Her profile will be published in the next few days. The first time I ate her food at Mission Chinese, I felt previously unused neural pathways open in my brain — that might have just been the Sichuan peppercorn on the Chongqing chicken wings, but I think it was more likely that I could taste her creativity. The Cut recently met up with Dimayuga to bake a silver cake and hear about her next moves, which include queering the restaurant world and keeping her hair the color of an "organic runny egg yolk." She is exactly the palate cleanser we all need in 2018.
Happy Holidays. Eat, drink, and be naughty.
Love,
Stella
On Angela
:

Loewe

off shoulder ball gown, $3,950 at

Loewe

.

Yandy

satin gloves, $10 at

Yandy

.
Production Credits
:




Photos by

Lia Clay


Styled by

Rebecca Ramsey


Interviewed by

Sierra Tishgart


Produced by

Biel Parklee


Hair by

Sean Bennett


Makeup by

Slater


Set Design by

Marcs Goldberg


Photography Assistant:

Nick Rapaz

. Fashion Assistant:

Indya Brown


Special Thanks to

Industria Studios