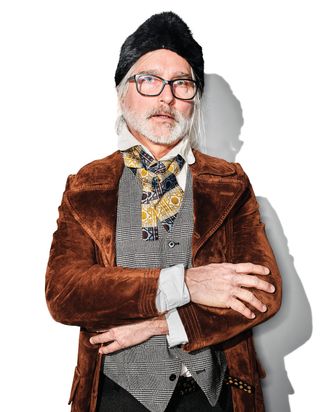 "I wear a tie every day — it's kind of my signature look."
Photo: Bobby Doherty/New York Magazine
Tom Taylor, Designer
What are you up to today?
I've getting ready to fly to Florida, which is where I'm from. For many years, I was a banker and was married with three kids. Then about ten years ago, when I was 50, I moved to New York to see if I could live a creative life and explore another part of my sexuality. I live as a gay man now. I ended up in Chelsea, and then Williamsburg, and now I live full time in Hudson, where I work as a set designer and a visual artist.
Do you have a romantic partner now?
I don't have a partner, no, but I have what I call an Edwardian letter-writing companion. He lives in the Berkshires, and for four years we've written to each other every single day, even when I was traveling a few years ago to a remote village in southern China! He runs an 18th-century general store. It's romantic, in that it's a romantic thing to do with another person, but it's not romantic in the other way. I feel like my emotional needs are met in life. And I feel as if I see him every day.
Lightning Round
Coat: Etro.
Tie: "It's a vintage Rooster tie. I wear a tie every day — it's kind of my signature look."
What he misses about New York City: "The anonymity."
Favorite TV show: The Handmaid's Tale.
Last good book read: The Passion, by Jeanette Winterson.
New Year's plans: "I'll be home with friends in Hudson."
*This article appears in the December 25, 2017, issue of New York Magazine.