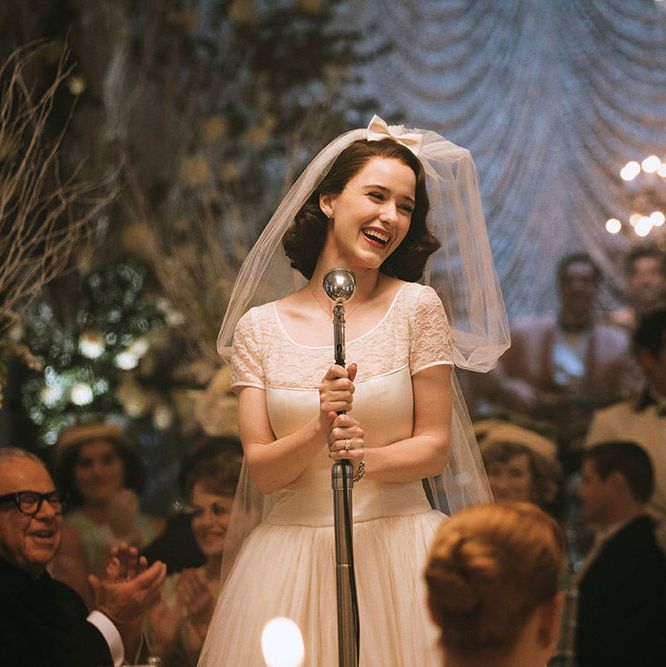 Photo: Sarah Shatz/Amazon Studios
When we first encounter Midge Maisel (Rachel Brosnahan), the Jewish housewife turned stand-up comic heroine of Amy Sherman-Palladino's The Marvelous Mrs. Maisel, she is a woman who adores her life of moneyed 1950s matrimony: an domestic goddess who cooks brisket like Julia Child while maintaining the hip-to-waist ratio of a runway model, and does it all with a winning smile. But when her husband Joel (Michael Zegen) unceremoniously announces he is leaving her, Midge discovers something even more valuable than a classic-six on the Upper West Side: her voice.
The first episode of the show, which premiered on Amazon November 29, functions a bit like Midge's superhero origin story: after Joel announces that he's fleeing the coop, our drunk and despondent protagonist heads to the downtown comedy club where she usually accompanies Joel (he is an aspiring comedian, though a lousy one; his breakdown is partially fueled by the shame of bombing onstage during a set). This time, however, Midge grabs the mic and delivers a raucous, off-the-cuff monologue about the dissolution of her marriage, effortlessly channeling her rage into sparkling wit. "I loved him. And I showed him I loved him. All that shit they say about Jewish girls in the bedroom? Not true," she fumes. "There are French whores standing around the Marais district saying, 'Did you hear what Midge did to Joel's balls the other night?'" The crowd goes wild, and Midge's comedy career is off and running.
The Marvelous Mrs. Maisel, like all of Sherman-Palladino's shows (Gilmore Girls, Bunheads), is an escapist fantasy — an idealized take on '50s New York, where the local deli counter shimmers like the Christmas window at Bergdorf's, and the bustling streets of New York feel as quaint and familiar as the nooks and crannies of Stars Hollow. But most of all, it's the ultimate fantasy of "winning the breakup": the idea that the most traumatic thing in one's life might also turn out to be the most fruitful.
While most breakups have a light at the end of the tunnel, for Midge the transformation from sadness to self-actualization is all but instantaneous. As James Poniewozik puts it in the New York Times, Midge is like "a sardonic hulk; she gets hurt, she gets angry and her superpower bursts forth." From the first time she grabs the mic after Joel dumps her, she's a comic prodigy, expertly converting pain into laughter, and receiving instant validation for it. Midge's unhappiness doesn't deflate her — it fuels her and gives her a chance to be reborn. That's part of what makes Mrs. Maisel so refreshing: For all the shows about comics stumbling and bumbling in the early days of their career, Midge is instantly good at what she does: better than the men around her, and better than Joel, especially.
The rest of the show follows Midge as she evolves as a stand-up comic, continuing to mine her suffering for content, and earning the love of audiences in the process. When she finds out that Joel's father actually owns their apartment and that she now has to move back in with her parents, she gets onstage and makes jokes about it. When she finds out Joel has moved in with his secretary, she gets onstage and makes jokes about it. And as she slowly begins to realize the undue burden that women face — in every aspect of their lives — she gets onstage and makes jokes about it. "Why do women have to pretend to be something they're not?" Midge fumes. "Why do we have to pretend to be stupid when we're not stupid? Why do we have to pretend to be helpless when we're not helpless? Why do we have to pretend to be sorry when we have nothing to be sorry about? Why do we have to pretend not to be hungry when we're hungry?"
While Mrs. Maisel is a period piece, it speaks to 2017 in a lot of ways. Midge's routine is less an act of joke-based stand-up than an intimate, stream-of-consciousness confessional; if the internet had existed in 1958, you could imagine her venting these same feelings on Twitter instead of onstage, with a lucrative @AngryUWSDivorcee book deal soon to follow. It reminds me of a bit of a scene from Girls, where Hannah (Lena Dunham) gets jealous of an old college classmate who got a book deal after her boyfriend committed suicide. ("She did everything right, including getting her boyfriend to kill himself," she moans.) Hannah is being an asshole, but she's also giving voice to some of the darker impulses underpinning today's first-person industrial complex — the notion that artistic fulfillment can be a salve for personal trauma, or, more cynically, that personal struggle is a precursor to creative success. Midge has a rare gift that enables her to make good on that fantasy: not just to sit and wallow in her trauma, but to turn it effortlessly into material that other people love.
It's thrilling not just to watch Midge dominate Joel in the breakup Olympics, but to see her do so in a way that nobody expects from a 1950s housewife. She doesn't soothe her broken heart by finding a new man. Instead, she finds a creative outlet for her frustrations — something rarely afforded to women at the time. She also gets a day job (working the makeup counter at a department store), and finds a Pollyanna-esque delight in the small wonders of 9–5 labor, down to her excitement every time she punches her time card (Like Gilmore Girls, Mrs. Maisel is awash in class privilege). The relationships she forms in the wake of the breakup are platonic and unconventional — particularly, her growing bond with comedy-club impresario Susie (Alex Borstein), who recognizes her gift and helps her channel her raw outrage into something that resonates. Meanwhile, Joel has it all, at least on paper: He's started dating his secretary, a woman by the name of "Penny Pan" (ample fodder for Midge's stand-up routine), and moved into a swishy apartment that looks an awful lot like the one he fled. "I thought I'd find you squatting in some downtown smoke-filled atelier, not two blocks away living the Methodist version of our life, with the Methodist version of me," Midge snaps. "You said you didn't want our life but this is our life, you didn't go somewhere exotic or different, you went across the fucking street."
Yet we're never under the impression that Joel is coming out on top. Throughout the show, it becomes increasingly apparent that he left Midge not because of how he felt about her, but because of how inadequate she made him feel. In this same heated exchange, Joel attributes his leaving to how he felt when she watched him bomb onstage while doing his comedy routine. "I had to [leave you]," he says. "Because after that night at the club, after I failed like that, I just knew you'd never look at me the same again." "Well, you're right. Just not about the club part," Midge shoots back.
Little does Joel know that Midge is currently turning his creative pipe dream into a reality, and using his life — and their ongoing breakup — as fodder to delight and entertain people on a nightly basis. He has traded in for a lesser version of her, while she has become a better version of him. Aside from Wonder Woman, it's easily 2017's most uplifting female superhero story — and the ultimate in post-breakup goals.