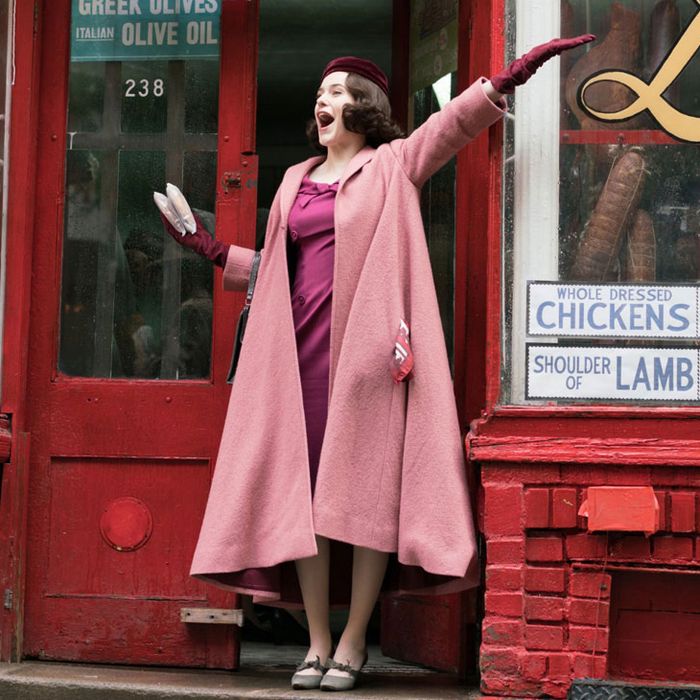 Photo: Sarah Shatz/Amazon Studios
Last year, I bought a pink cocoon coat. It is the color of Pepto-Bismol, of the sky before dawn. I spotted it when walking by the holiday windows of Ann Taylor (of all places!) in midtown and I felt that rare shopping pang that can only be described as a bizarre homesickness, like you already miss a thing that you don't even own. I lingered in front of that window, picturing other women who were not me wearing the coat, bouncing down the avenues like giddy sticks of bubblegum. I longed to join their ranks, whoever they were.
The piece was not an expensive purchase (and it is, unfortunately, sold out – try Ebay?), but it photographs like a dream and it has been totally worth it for the glee I get every time I put it on. I had never seen a garment quite like it before — a vibrant, milky rose, at once swingy and tailored — and it felt like a true find, inasmuch as anything purchased from a chain retailer on Fifth Avenue ever does. For a whole year, I never ran into anyone else with one.
And then I watched the pilot of The Marvelous Mrs. Maisel, the daffy, delightful new Amy Sherman-Palladino comedy set in 1950s Manhattan that is currently streaming in full on Amazon, and there it was: the lead actress was wearing my jacket. Well, not exactly. Her coat was truly one-of-a-kind, made from scratch by the Maisel costume designer Donna Zakowska based on a spread of pastel outerwear from the pages of mid-century French Vogue. But it was close. Midge Maisel, played by the great Rachel Brosnahan, spends a great deal of the pilot running around town in a Pepto-pink swing coat, including during the raucous denouement of the episode.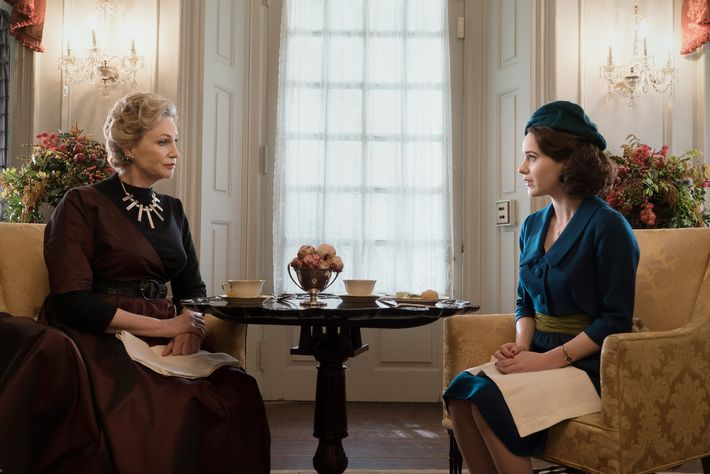 When the show opens, we learn that Midge is a contented young mother and housewife living on the Upper West Side in a classic six. But after her husband leaves her for his secretary, she goes into a tailspin and finds herself wet, drunk, and ranting onstage in a Greenwich Village comedy club in a pale blue peignoir covered only by that coat. The scene is a riot. She grabs her breasts in front of an unsuspecting crowd of beatniks, a move that launches her comedy career. The first time I watched it, I realized Brosnahan was a star. The second time, my eyes were glued to her clothes.
The costuming on Maisel is one of the more joyful revelations of this year. Somehow, despite the fact that the show is set in a New York of 60years ago, the outfits manage to feel fresh as hell. There is a swoon-y magical realism to the wardrobe, as there is to the entire show — these are clothes of their time, but they also feel timeless. Midge's outfits, full of mock turtlenecks and high-waisted, slim Capri pants, feel kicky and crisp, shiny as a new coin. The first thing I hear from most friends who have watched the show is that they wish they could live, even just for a day, inside Midge's closet.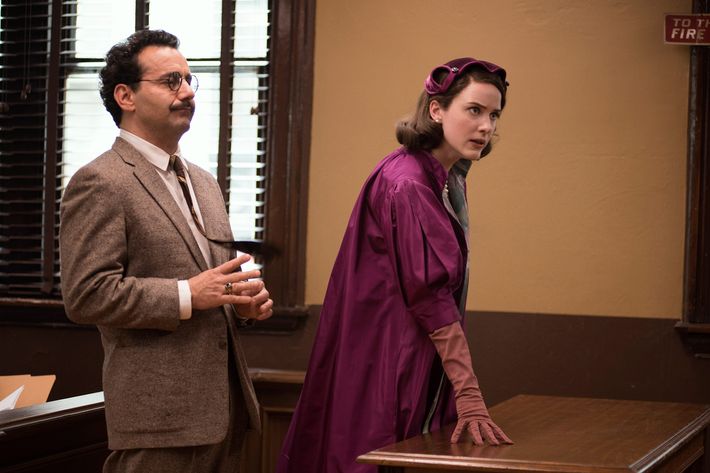 Donna Zakowska and her team made about 90 percent of the costumes for the principal characters on the show. They are brand-new creations meant to evoke an old moment; she couldn't find vintage offerings in the poppy jewel tones that she hoped would convey Midge's radiant self-confidence.
"I think of it as minimal couture," she told me. "As a character, Midge has this incredible optimism and identity, and I think she would have gone in for the interesting use of color in that period. The colors of the time were strong, and there was an unpredictability to it, which was something I loved. Color was the rhythmic device for her emotional landscapes."
Indeed, the Crayola palette is the first thing you notice about Midge's wardrobe: she flounces around in bright magenta, royal blue, kelly green, mustard yellow, electric teal, and one stunning cherry-red dress.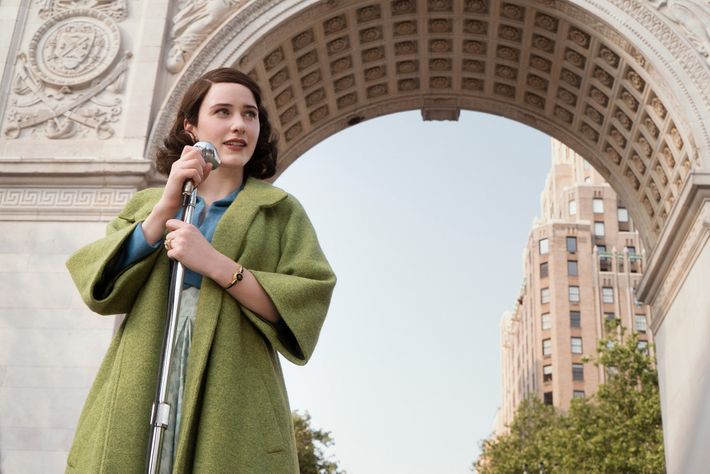 In a scene from episode six, in which Midge is "working the party circuit," a.k.a. testing out material for her act at various cocktail hours uptown, she wears a particularly inspired color-blocking experiment: a slim, red-orange three-quarter-length sleeve top, a pair of maroon shorts (with a matching belt!), and bright red tights underneath. So many crimson shades should clash, but they look fascinating together; Midge is the person your gaze is suctioned to at the party, which is the very point of the scene.
"I found some very strange old advertisements with outfits like that," said Zakowska. "There is a playful hipness to that outfit. She is trying to fit in with women who are a bit younger than her and she's taking a risk."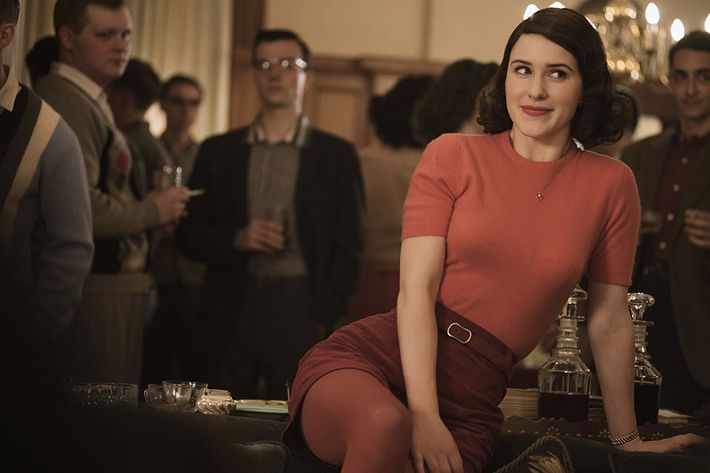 Zakowska looked to the elegant designs of Charles James and Jacques Fath for her silhouettes, but also to Audrey Hepburn's jaunty style in Funny Face, which she says "was really the beginning of everything" when it came to outfitting Midge.
A quirky aspect of Midge's wardrobe is that it has a split personality — she has one look for the Upper West Side (impeccable tea dresses, a coat with an impressionistic Monet-esque trim, two-piece skirt suits, felted hats, suede evening gloves) and a completely different attire doing her act at smoky Village clubs (pedal pushers, mock turtlenecks, pencil skirts with pockets).
"The huge distinction in 1950s New York fashion was between uptown and downtown," Zakowska said. "I had to develop two wardrobes. Still, she never goes full Bohemian. I remember telling my team, we are never going to do berets. No berets."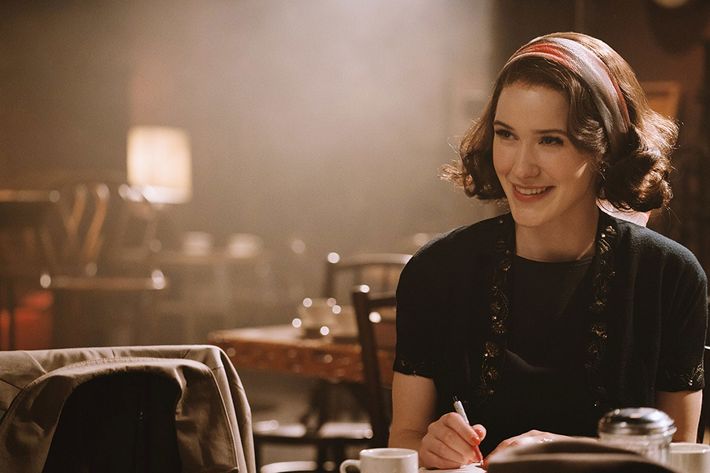 I keep wondering why the clothes on Maisel feel so invigorating onscreen — looking at them is the visual equivalent of biting into a lemon — especially because being a woman in those clothes was likely anything but buoyant at the time. Women were stuffed into perma-girdles, hoisted onto heels, and cinched within an inch of their spleens. The trappings of mid-century femininity were called trappings for a reason.
In episode two, Midge and her best friend attend a ridiculous exercise class (modeled after real photographs from Helena Rubenstein's wellness studio), where the women are doing calisthenics in boatneck shirts, sweaters, and twill shorts. Even the athleisure was uncomfortable.
And yet, the ceaseless energy that Midge brings to the world in her clothes — she is a a woman who fully attacks her day in a Peter Pan collar — makes them look seductive as a new kind of daily armor. I feel a pure sense of joy looking at them, the same way I did when I spied that pink coat.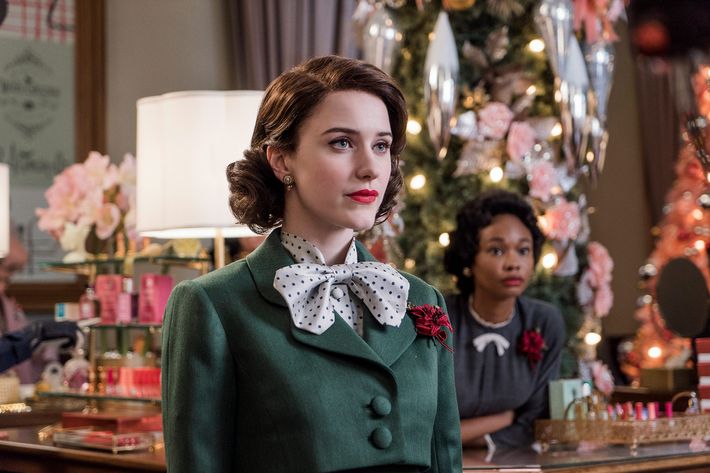 Zakowska told me that she spent the most time on Midge's outerwear, importing rare fabric from London to get the colors just right, because "every jacket had to be a moment. She had to round a corner and your eyes go right to her. It's operatic."
There is an acute pleasure in dressing theatrically in times of high anxiety; it snaps you back into your body. Midge's life was falling apart, and so she put on a red dress. It feels apropos in 2017 to find an updated way to do the same.