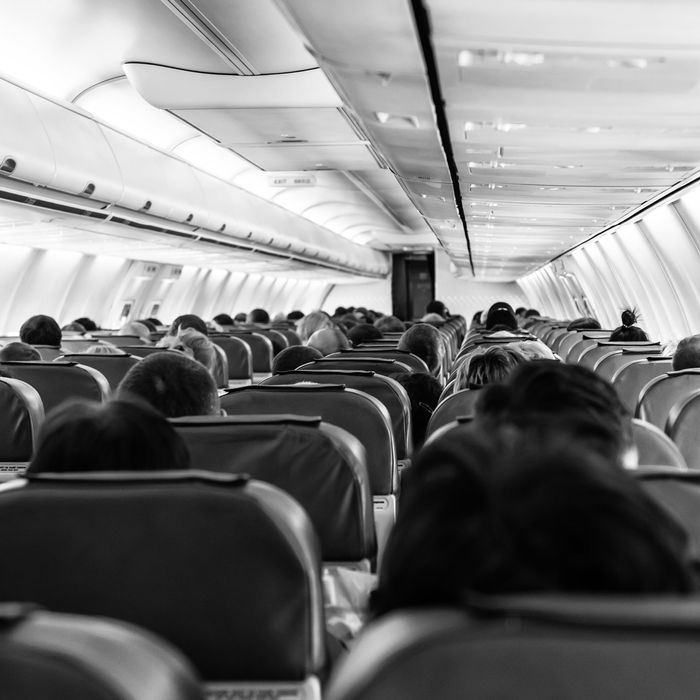 Photo: iStockphoto/Getty Images
Although the current conversation about sexual misconduct has largely centered on prominent figures in entertainment, politics, and media, it has also raised questions about how other industries handle allegations of sexual assault. In a report published by CNN on Wednesday, for example, four women described their experiences being sexually assaulted on commercial flights, and how the airlines addressed, or failed to address, the issue.
One woman, Katie Campos, was on a flight from Newark to Buffalo when the man next to her began groping and harassing her and the other woman in their row. Campos reported his behavior to the crew, and says she was grudgingly reseated behind the same man, who continued to touch her.
"I felt like no one, no one that was supposed to be in charge could handle the situation," she told CNN. "I kept on feeling, and I continue now as I'm like filing these reports, to feel like I'm the one who is doing something wrong, and I'm not being protected."
Local law enforcement was on the ground to apprehend the man when the plane landed, but Campos said she felt the crew was not equipped to properly handle the situation.
Indeed, according to Sara Nelson, the president of the Association of Flight Attendants-CWA, while some airlines have policies in place for how to deal with sexual assault, it is often glossed over in flight attendants' training. She told CNN that in her 22 years as a flight attendant, she has never taken part in any conversation, "training or otherwise," about how to handle sexual harassment or assault.
And it's a problem that's not going away any time soon. CNN reports that FBI investigations into midair sexual assaults increased 66 percent between 2014 and 2017, and those figures don't account for all of the instances of sexual misconduct that don't get reported, or that don't make it to the Bureau. As of now, 63 investigations into sexual misconduct on planes have been opened during this current fiscal year, as opposed to 38 in 2014.
In a statement, a spokesperson for the Airlines for America said: "Employees receive extensive customer service training to ensure the safety and wellbeing of all our passengers and crew. Airlines strive to make sure every passenger has a safe and pleasant travel experience and that disruptive or inappropriate behavior is dealt with as promptly as possible."