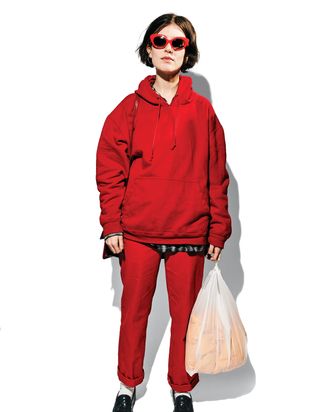 "I knew I wanted to go into real estate after watching
Million Dollar Listing."
Photo: Bobby Doherty/New York Magazine
Megan Davies, Student
What's in your bag?
A yellow sweatshirt — it's from Nick & Son, the same store on Orchard Street where I got the red one that I'm wearing. I always like to match. If I'm going to wear yellow, I'll wear all yellow.
What are you studying?
I go to Gallatin, and my concentration is centered around behavior and deviance in society, but I am interning at Douglas Elliman. I love looking at apartments — I go on StreetEasy all the time just for no other reason than the fact that I find it completely entertaining. I knew I wanted to go into real estate after watching Million Dollar Listing. I think it just seems so glamorous. I want to be the city's next top real-estate broker.
That's quite a claim!
I just watched The Secret on Netflix, so I figure if I put out those frequencies into the universe, maybe it'll happen.
Lightning Round
Age: 20.
Neighborhood:  East Village.
From: Los Angeles.
Favorite TV show: Nathan for You.
Last good book read: The Beauty Myth, by Naomi Wolf.
Favorite East Village spot: "This smoothie place Pure Green. I go in every day and ask for the same smoothie in a bowl. It's bananas, coconut, almond butter, and almond milk, and I eat it like ice cream."
*This article appears in the December 11, 2017, issue of New York Magazine.