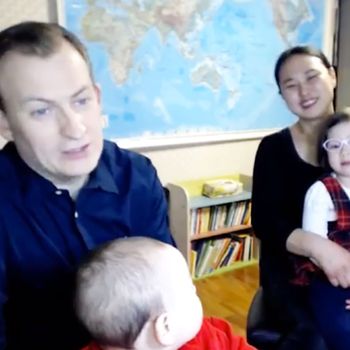 Robert Kelly, Kim Jung-A, and their children, James and Marion.
Photo: Courtesy Wall Street Journal
It was nearly ten months ago that a little girl in a yellow sweater and a baby in a walker burst into their dad's office's while he was discussing South Korean geopolitics in a live interview with BBC World News — an adorable gaffe that would turn what was an average family into the Viral BBC Family. Aware of the fact that millions of people are now invested in their life, they have kindly shared their Christmas card with the world.
The dad, professor Robert Kelly, tweeted the picture from their home in Busan, South Korea, with a note of gratitude.
"Merry Christmas. To all the people who follow me because of the video or my children, thank you. We are flattered by your kindness," the tweet reads.
And now, the important part: the festive photo of Kelly; his wife, Kim Jung-A; and their children, James and Marion. What's the cutest part, James's juice box or Marion's peace sign?
We're the ones who should be expressing our gratitude.