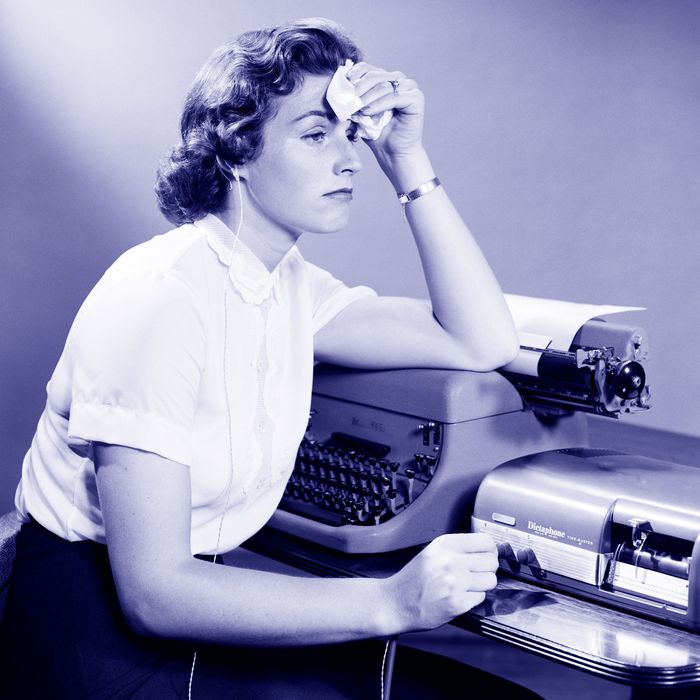 Photo: H. Armstrong Roberts/ClassicStoc/Getty Images
My heart races as that familiar bubble pops up on my screen. My supervisor is typing for what seems like forever. In reality, it's only a few seconds, but that's still enough time for me to fall into a full-on worry spiral: Did I make a mistake? Is she mad at me? Finally, the text message appears: "Thank you."
My days are full of false alarms like this. As a remote worker who communicates with my co-workers exclusively over email, text, G-chat, and Slack, I can't rely on facial expressions or body language or tone of voice to tell me which way a conversation is about to go. And as a freelancer, I get no formal review processes. Most of the time, I don't know how my clients feel about my work. I receive no warnings before they drop me, leading to a nagging feeling that they could do so at any moment.
It's a small comfort that I have plenty of company. A 2016 Gallup survey of more than 15,000 American adults found that 43 percent of employees work remotely at least part of the time. That's a lot of people left to wonder what their boss is thinking — and a lot of agonizing over the hidden subtext that might be contained in a message (or, worse, in a lack of messages).
I'm not just projecting, either — research has shown that a lack of clear feedback from supervisors can have debilitating effects for workers. One ten-year 2009 study of 3,100 Swedish men in the Journal of Occupational and Environmental Medicine, for example, found that people with uncommunicative bosses are more likely to experience heart disease. Perhaps this lack of communication is one reason why, according to a 2017 United Nations report, 41 percent of remote workers report high stress levels, compared to just 25 percent of office workers. And a 2017 survey published in Harvard Business Review found that remote workers are more likely than on-site employees to believe their colleagues are talking about them negatively behind their backs.
"Not receiving feedback has a negative effect on motivation and productivity for all workers," says Anita Williams Woolley, an associate professor of organizational behavior and theory at Carnegie Mellon's Tepper School of Business. "For remote workers, they have even less opportunity to get feedback or reactions from others informally, so they are operating with even less information, and thus the effects can be more pronounced."
Many bosses have a tendency to provide feedback only when it's to point out something wrong, which could worsen this stress, says Williams Woolley. In one study in the Journal of Occupational and Organizational Psychology, employees recorded their moods at work throughout the day. Negative interactions with bosses, the authors found, had six times the effect on mood that positive ones did.
Even if it's balanced, written feedback alone may not provide the clarity employees need to feel confident in their performance. "[In person,] you can read body language or at least sense emotion in voices," says Gretchen Spreitzer, the faculty director of the Center for Positive Organizations at the University of Michigan's Ross School of Business. "The person giving the feedback can read the reactions better and elaborate more details if there appears to be confusion or defensiveness. Words in an email or a text can sometimes be misinterpreted due to the brevity of the words."
Remote workers know this all too well. "There is a very real stress with being a remote worker and not knowing how your work is being received," says Tessa Clare Endencia, who runs the book-publishing business Asset Creative House. "For instance, a client takes three days to respond to your email. Is it because they hate it? Because they don't want to work with you anymore?"
"If you've never met your boss in person and solely have emails and texts on which to rely, you don't always know what kind of person they are or their personality," agrees Victoria Shockley, a public-relations account executive. "You may not be able to say, 'John wrote this in a rude manner, but I know what he's like, so he definitely didn't mean it.'"
But there are ways to make things more bearable short of hunting for an in-person office job. Some web-conferencing systems like Vidyo provide "virtual water coolers" where people can get to know their co-workers, says Williams Woolley. This could give remote workers the chance to get the informal feedback bosses often give in passing. Slack can also be used for more of a free-flowing exchange, rather than sporadic but formal conversations.
Some managers are also reworking their communication tactics to give employees a more accurate assessment of how they're performing. Kari DePhillips, who manages a remote team as owner of the Content Factory, sends emails to the whole team when someone does a good job, explaining exactly what they've done right. "Some of my employees felt that I was focusing too much on the negative," she explains. "When I reviewed my written feedback in Slack and emails, I could see their point. I wrote many more words detailing negative feedback. I now do the same type of thing with positive feedback." To keep her own employees in the know, Fundamental founder Emma Moore has daily five-minute Skype calls with her whole team, as well as individual evaluation calls every few months.
Research has found this more hands-on approach to be a beneficial one: 46 percent of respondents in the previously mentioned Harvard Business Review survey said the best managers check in regularly with remote workers, and one in four said the most successful ones find a way to get face time.
Workers can also initiate their own conversations to get feedback, something that's definitely helped me keep my nerves in check.
Spreitzer recommends touching base at the beginning and end of every day to make sure everyone's on the same page. For Taylor Coil, who does product marketing for Tortuga, a weekly video chat with the CEO is enough to quell any fears that arise while they're out of touch. "I'll get in my head about some paranoia-fueled insecurity and dread the call because I've convinced myself [he] is disappointed in me," she says. "Those weekly calls reassure me when I'm feeling tortured about nothing."
These check-ins are also a time to be proactive about highlighting your own success. "Not being afraid to pat myself on the back, even if it sounds like you're bragging, goes a long way," Endencia says.
"It's easy for people to forget how hard you work," she adds, "when you're not working in front of them." Especially when you're constantly stressed over your own performance, a little reminder goes a long way.