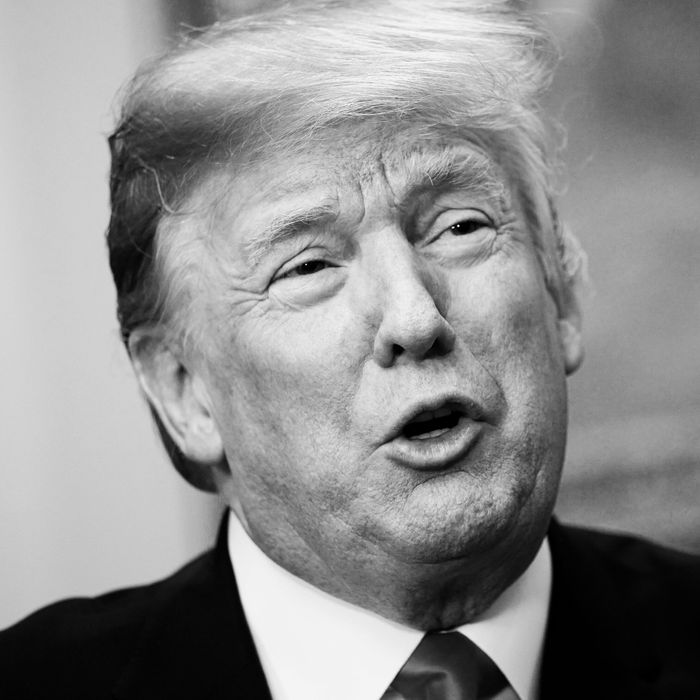 Donald Trump.
Photo: MANDEL NGAN/AFP/Getty Images
Despite Donald Trump's explicit claims that he is "a very intelligent person," people seem to have their doubts. In addition to his own Secretary of State reportedly referring to him as a "f*cking moron," on Tuesday, Politico reported that two FBI agents working on Robert Mueller's probe into possible collusion between the Trump campaign and Russia exchanged text messages in which they referred to then-candidate Trump as an "idiot" and said he shouldn't be president.
The over 300 text messages between agents Peter Strzok and Lisa Page were handed over to Congress by the Justice Department on Tuesday. In a letter to lawmakers, Special Counsel Mueller said he removed Strzok from the probe "immediately" after learning about the messages back in July, and that by that time, Page had already ended her assignment in Mueller's officer.
In one exchange from 2015, Page texted Strzok "I just saw my first Bernie Sanders bumper sticker. Made me want to key the car."
"He's an idiot like Trump. Figure they cancel each other out," Strzok replied.
Later that year, in response to Trump's claim that there's "no proof" Russian president Vladimir Putin ever had anybody killed, Page wrote: "What an utter idiot."
"God trump is a loathsome human … omg he's an idiot," Page texted in March 2016.
"He's awful,"Strzok answered.
The pair of pundits also called former Maryland governor Martin O'Malley a "douche," and wondered about Ohio governor John Kasich's sexuality, saying he was "long suspected of being gay."
Given how well Trump took the Tillerson news, we can't wait to see what he has to say about this.