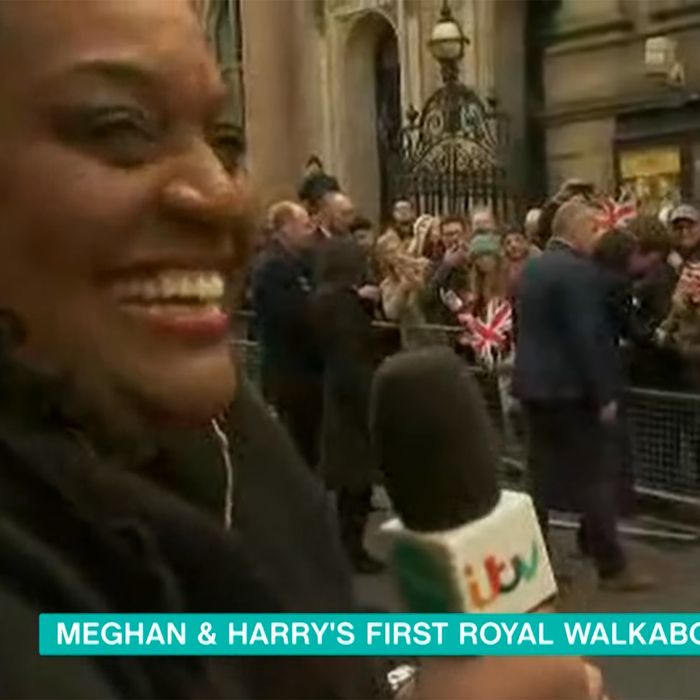 In the Pantheon of journalism, a few names loom large: Edward R. Murrow, Bob Woodward, Barbara Walters, and, of course, ITV's Alison Hammond. (You may remember Hammond from her delightful viral interview with Ryan Gosling and Harrison Ford, in which the trio gently ribs each other, laughs uncontrollably, and sips whiskey.) On Friday, Hammond joined the throngs of well-wishers who turned out to greet Prince Harry and Meghan Markle on their first walkabout as an engaged couple, and while she wasn't able to ask the couple any questions, what ensued was so much better than any interview.
"Harry! He's right here, I'm so excited. Harry, congrats!" Hammond gushed as the Prince walked by her.
But nothing could compare to her enthusiasm for his fiancée.
In an attempt to get Markle's attention, Hammond repeatedly screamed: "Megs! Megs! MEGS!" and "Megs! You look beautiful today!" When her cries went unanswered, Hammond enlisted the help of those around her. "Let's get her to turn around. Everyone say 'Meghan' on three — one, two, three, MEGHAN." This also did not work.
Finally, Markle made her way over to Hammond's side of the crowd, and, after a word of caution from her anchors ("Alison, don't get arrested, whatever you do,") the reporter was finally able to get a word in.
"Congratulations from This Morning!" she shouted. Markle said thank you.
Watch the entire, wonderful video below, and somebody get this woman a Pulitzer.