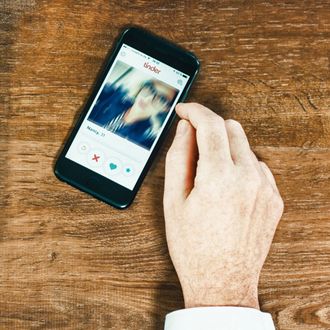 Photo: audioundwerbung/Getty Images
You probably all have your nominations for the title of Worst Dude on Tinder, but it's safe to say that Brandon Kiehm cracks the top ten. Now Kiehm, the man who pulled so many scams he was dubbed the "Tinder Swindler," will be staying away from the dating app for a while — because he's going to prison.
Kiehm's antics started in mid-2015, when the dog walker began posing on Tinder as a Goldman Sachs banker named "Tristan Acocella." He told one date he needed money for his sister's cancer treatments and got $14,000, while another woman gave him $12,000 for his mother's supposed cancer treatments. (Neither his mother nor his sister has ever had cancer.) During that time period, he also stole $13,000 from a dog-walking client through a debit card scam and $800 from his neighbor.
He was arrested and charged with grand larceny, identity theft, and scheme to defraud in February 2016 — but his scams didn't stop there. While he was out on bail during the summer of 2016, he convinced a Tinder date to give him $10,000 by saying he had lost his wallet and wanted to enter an online poker tournament.
Kiehm received a sentence of two to six years in prison, after which he'll probably give Bumble a shot.