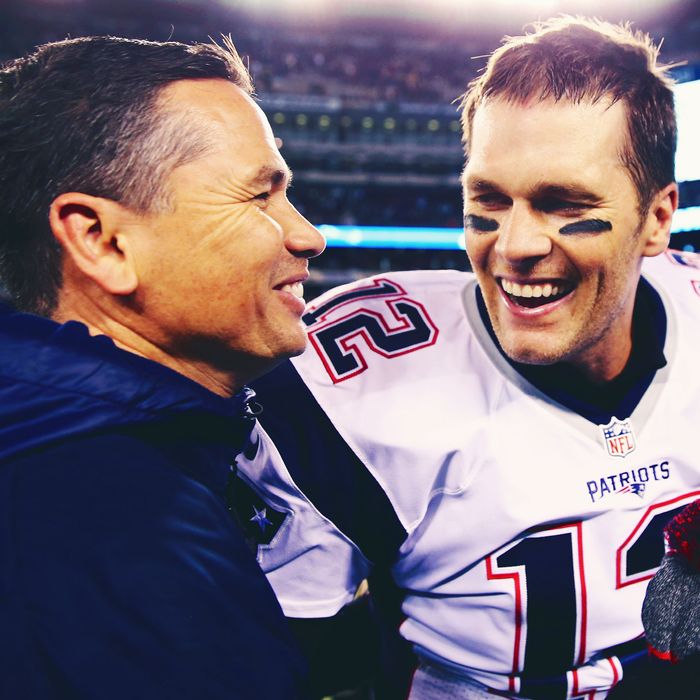 Alex Guerrero and Tom Brady.
Photo: Elsa/Getty Images
I don't always follow sports, but when I do, it's to check up on what my favorite bronde couple, Tom Brady and Gisele Bündchen, are putting (or rather, not putting) in their perfectly chiseled bodies. So it was distressing to learn that Alex Guerrero — Brady's trainer and close friend with whom he launched the TB12 sports therapy center, and who helped him write his book in which he claims proper hydration will prevent sunburns — has been stripped of many of his special team privileges by Patriots coach Bill Belichick. What will Tom, Gisele, and the rest of the Patriots do now?!
According to a report from the Boston Globe, in recent years, Guerrero has treated a number of Patriots players, secured an office in the team's locker room, been allowed on the sidelines of every game, and flown on the team's chartered planes, in case Brady or other players need wellness on the go.
But this season, Belichick has reportedly revoked Guerrero's sideline credentials, and the health guru is no longer welcome to travel on the team's plane, nor can he train players other than Brady at Gillette stadium anymore (though they can continue to train with him at the nearby TB12 center.) It is unclear why exactly the Patriots' coach chose to restrict his access now, but according to the Globe, there has been tension between Guerrero and some of the team's training staff for some time, due in part to his nontraditional methods.
Guerrero has sparked controversy before. In 2015, the Federal Trade Commission filed a complaint against him after he suggested that a supplement called Supreme Greens could cure terminal illnesses including cancer. Boston Magazine called him a "glorified snake-oil salesman."
Brady declined to comment about the new development in a recent radio interview, and we hope he and Gisele will be okay.