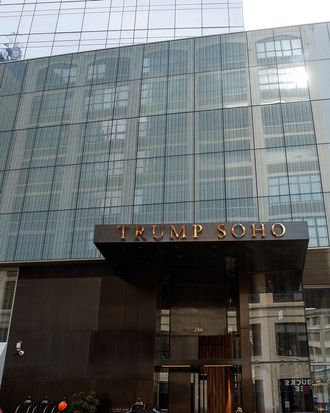 Trump Soho.
Photo: Drew Angerer/Getty Images
So, according to Hotels.com, there are still a few rooms left at Trump SoHo tonight, which means you might still be able pick up some Trump-branded hand soaps and sewing kits, and remember the days when the Trump family planned to spend their lives as simply gold-plated hoteliers.
The Washington Post's David Fahrenthold has been chronicling changes at the hotel, and reports that the final Trump SoHo sign is expected to come down late tonight. From then on, the hotel will be called "The Dominick."
No one is entirely sure how the hotel is doing, because no one has seen Trump's tax returns, but all accounts suggest business has most likely taken a dip. When the hotel first opened, it was a hot spot for celebrities visiting New York, but in the last year, it has seen protests and a drop in A-list clientele.
"After President Trump started running for office, and especially after he won, you saw the kind of core constituencies of that place turn against them," Fahrenthold told WNYC. "Celebrities stopped coming. Sports teams almost entirely stopped coming."
Fortunately, the hotel is being turned over to the Preferred Hotels & Resorts network, and no one is expected to lose their jobs. If you ask really nicely, you might still be able to get a Trump SoHo bathrobe.