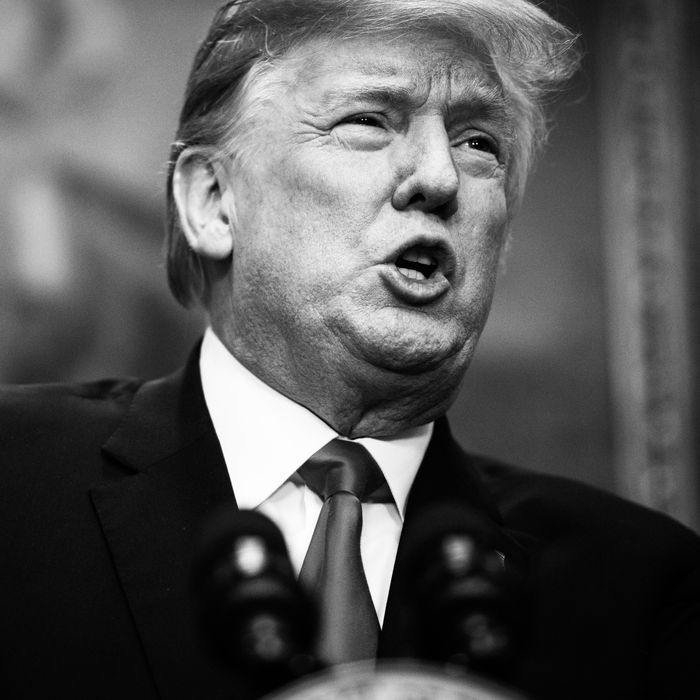 Feeling nervous?
Photo: Jabin Botsford/The Washington Post
It turns out women and victims of sexual misconduct are not the only ones who have found the post-Weinstein news cycle to be exhausting. Donald Trump, who has been accused of everything from harassment to rape by more than ten women, is reportedly tired of alleged perpetrators of sexual harassment and assault being outed, Politico reports.
While the start of this watershed moment started in the entertainment world with the downfall of Harvey Weinstein, it has metastasized to Capitol Hill. Just last week, Representative John Conyers, Senator Al Franken, and Representative Trent Franks all announced their resignations amid sexual-misconduct allegations. In late November, Trump went so far as to applaud women for coming forward.
"I think it's very, very good for women, and I'm very happy a lot of these things are coming out," he said.
Though Trump was certainly happy to get some of his vocal opponents out of office, his statement was a little suspect, given he endorsed Senate candidate Roy Moore, who has been accused of preying on teenage girls. And now, as he's facing calls to once again resign himself, Politico reports that Trump has "complained privately that the avalanche of charges taking down prominent men is spinning out of control."
Maybe he's worried his own reckoning is finally here?