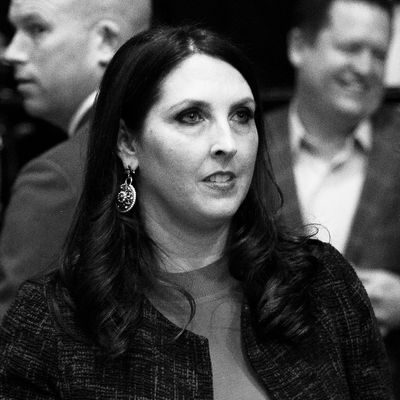 When you realize Trump is extremely petty.
Photo: Drew Angerer/Getty Images
Today in mind-blowing pettiness: Trump reportedly asked current Republican National Committee head Ronna Romney McDaniel to stop using "Romney" in her public name before assuming her current position, the Washington Post reports. Trump has a contentious relationship with former Massachusetts governor Mitt Romney, whom Trump has called a "failed candidate" and "stone cold loser," and therefore has an aversion to his last name.
McDaniel is Romney's niece and has used her maiden name for years, but according to official party communications, McDaniel has slowly phased out "Romney" since Trump's request. The president justified his wish by claiming that the name "Romney" has led to boos during his events, which he could just not tolerate. While Trump endorsed Romney for president in 2012, the former governor was a vocal critic of the current president during the 2016 campaign.
Cassie Smedile, a spokesperson for the RNC, told the Post that McDaniel sometimes uses her full name on invitations to fundraisers, and that there's no ban on using Romney's name.
"This is silly," Smedile said. As silly as the president asking McDaniel to change her public name?