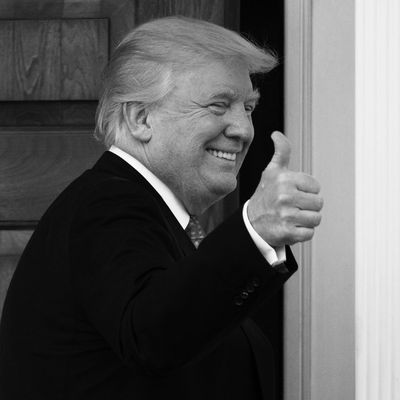 Thumbs up!
Photo: DON EMMERT/AFP/Getty Images
A recent New York Times story gives unsettling insight into Trump's daily habits, the most disturbing of which is that he sometimes watches up to eight hours (!) of television in a single day. While the report is full of maddening yet not-totally-shocking anecdotes about the president's routine, there is one particularly curious detail that goes unexplained: He reportedly has "an odd affinity for showing off bathrooms" to guests.
Unsurprisingly, it's not just bathrooms that Trump likes to flaunt. He apparently loves giving tours in general, as they provide him an opportunity to solicit compliments while feeling very powerful. He does, however, have his favorite rooms, and according to the Times, they're the ones with toilets.
He needs support, a sounding board and, as a lifelong hotelier, guests. Mr. Trump is naturally garrulous, and loves to give White House tours. He has an odd affinity for showing off bathrooms, including one he renovated near the Oval Office, and enjoys pulling dinner companions into the Lincoln Bedroom or onto the Truman Balcony for the postcard view of the city he has disrupted.
He must be eager to show off his brand-new toilet seat in the Oval Office bathroom.