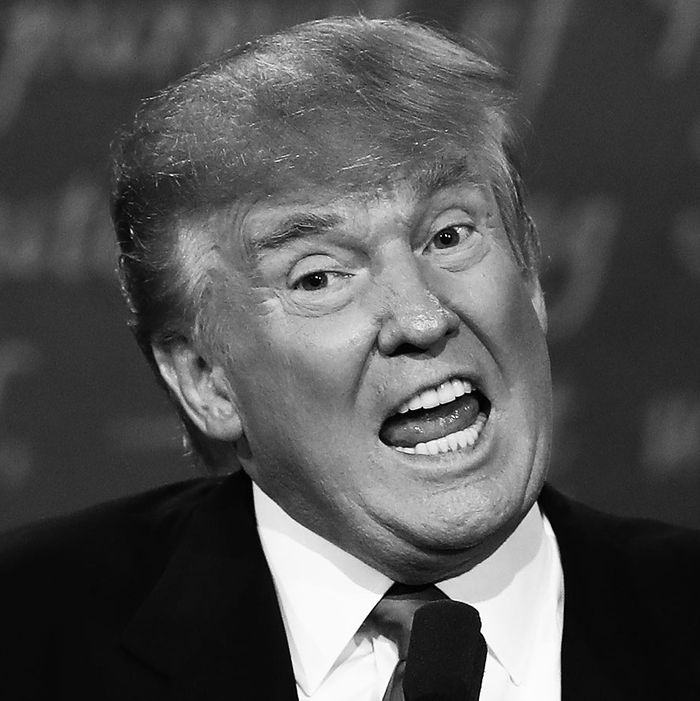 Donald Trump.
Photo: Win McNamee/Getty Images
As of today, my existence has been cleaved violently in two — my life before I knew Trump-themed ASMR videos existed (happy, healthy, innocent years when I could sleep and maintain personal relationships), and my life after. This troubling sub-genre was brought to my attention shortly after the president delivered a strange, slurred speech about the U.S. recognizing Jerusalem as the capital of Israel, which he concluded with something that sounded like "God bless the Unaidaishesh," but might have been "God bless the Unableurshblesh."
The speech inspired one Twitter user to compile Trump's various mouth sounds into an ASMR video that, full disclosure, will break your soul.
But that's just the tip of the breathy, whispery Trump iceberg. Search "Trump ASMR" on YouTube (don't) and you'll find a number of Trump-themed ASMR videos, some political, some comedic, and this — a 27-minute video of a woman pretending to be Melania Trump helping the president get ready in the morning.
"It is your job to take care of America. (America America America America) It is my job to show that you are well enough, to give you best," she whispers. At one point she pretends to tie a red tie on him.
There's also this ASMR of a woman reading Trump's inauguration address because, in her words, "I'm all for those original, edgy memes," (extremely same.)
For the comedy fans out there, this woman made an ASMR video where she pretends to get Trump ready for his inauguration, and mocks him for using too much bronzer.
And for the activists among you, an anti-Trump ASMR that is described as relaxing, political, and transformative.
Anyway, I'm sorry for making you go on this journey with me. I'm sorry you'll no longer be able to drift off to sleep, laugh with friends, or enjoy an intimate moment with your partner without imagining a quiet, whispery voice saying: "Make America great again … "
Please accept my apology in the form of this 40-minute ASMR video about the Russian Revolution. Enjoy.