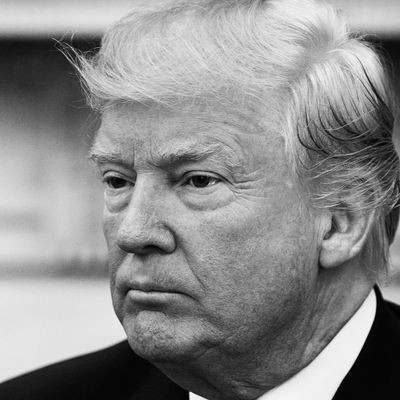 When you've never seen a thin person drinking Diet Coke.
Photo: Al Drago/Pool/Getty Images
Donald Trump's deep love of McDonald's is well-documented. There was the news that he often sent his trusted bodyguard Keith Schiller on fast food runs when the White House food didn't hit the spot. There was the (possibly false but still enjoyable) rumor that Chris Christie was resigned to fetching his orders during the presidential race. But the actual details of his meals weren't made public — until now.
Let Trump Be Trump, a new book co-written by Corey Lewandowski — the former Trump campaign manager who was arrested for battery, then fired, then hired by CNN — claims that Trump's usual is: two Big Macs, two Filet-O-Fish, and a chocolate milkshake.
Never trust a person who doesn't get fries with that.