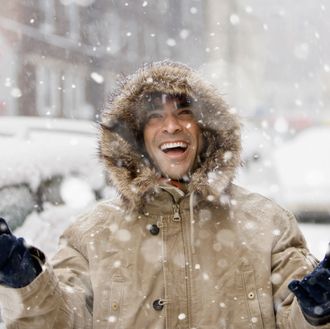 Photo: Jose Luis Pelaez/Getty Images/Blend Images
As parts of the Northeast prepare for their first snowstorm of the season, residents are tuning into local TV stations to see what to expect. And according to one, we're going to see heavy snow that's hard to shovel … and good for men.
Writer Tom McAllister, who's based in South Jersey, posted a photo of the meteorological report to his Twitter.
They're just talking about snowmen, of course, but it makes you think … [cue Portlandia feminist bookstore owners voice] what about Old Woman Winter?