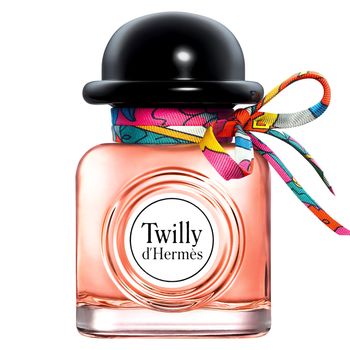 I don't know what Hermès's new perfume, Twilly, smells like. That's not because I haven't smelled it. I have, often, for almost three weeks. And it's not because it smells strange or bad, because it actually smells very nice. Even the reviews on Fragrantica, the Rotten Tomatoes database of perfume, are pretty good.
I even know the inspiration for the scent. Its name refers to the slim sheaths of Hermès scarves that their customers, often young women, like to tie around the handles of their bags. (A removable "spaghetti strand" of Twilly is tied around the bottle's cap). Less literally, Hermès's master perfumer Christine Nagel explained that Twilly was inspired by the energy, verve, and freedom of young, cosmopolitan women.
"I'm going to twist the rules of perfume making," Nagel declared when it came to this scent. When perfumers are tasked with making a perfume for youth, many create sugary, fruity confections, making up fragrance accords — scents that don't exist in nature — that sound like bakery items. (Even Beyoncé's Pulse fragrance has a base of something called red velvet cupcake accord.)
But there isn't anything sweet about this perfume. There's warm tuberose, which Nagel felt was a creamy, white floral that recalled the "round cheeks" of young women, who are "still children, yet very women-like." Sandalwood is often described as "milky," but she enhanced it to give more of a grown-up, animalistic quality.
The most unusual part of the fragrance is the "enormous quantities" of ginger — which is what makes describing it so challenging. Ginger is normally only found in small amounts in perfumes, but it makes up a good portion of this fragrance. Zesty, a little electric, and bubbly, the ginger in the perfume makes it feel like you're taking a long sip of artisanal, fizzy ginger ale (the barely-sweet kind) out of a fancy glass tumbler.
Twilly doesn't conjure the feeling of being at a beach, rock climbing, walking through a forest, or any place I've ever been. There's an energy to it that feels sort of like running freely, with your hair flying behind you, down a hill. It's a little creamy, spicy, effervescent, warm, free-flowing, peppy, and vibrant, all at the same time. It might not smell like teen spirit, but maybe it's what millennial spirit smells like.