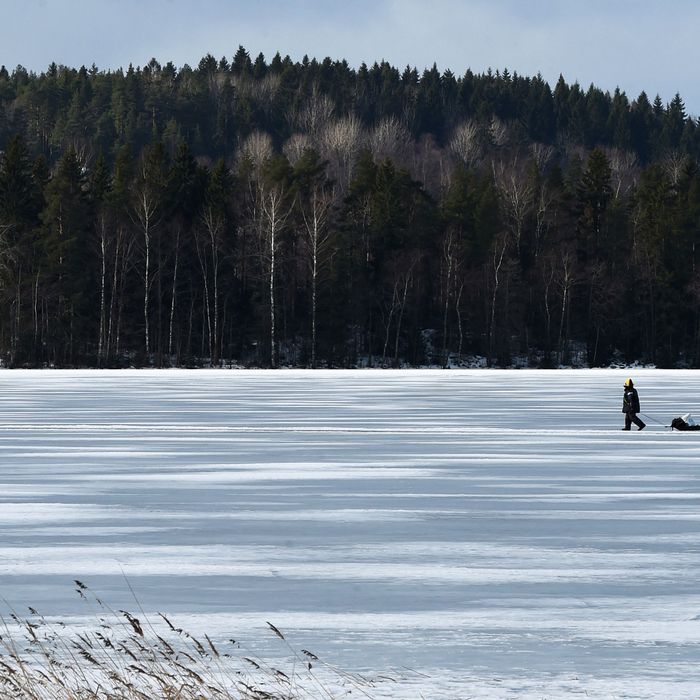 Nothing like a nice stroll across a frozen lake.
Photo: CHRISTOF STACHE/AFP/Getty Images
After what was undoubtedly a very frustrating fight, a Utah teen completed an unprompted Fear Factor challenge to spite his parents: walking six miles across a frozen lake. If he were to go head-to-head on the TV show with the Oklahoma teen who jumped into a zoo's zebra exhibit earlier this year, the Utahn would definitely bring home the $50,000 grand prize.
According to KSL, the 13-year-old boy's parents called the police at 4:20 p.m. Friday to report that their son had started his journey across Utah Lake at the Saratoga Springs Marina area. While the specifics of the family fight have not yet been disclosed, the argument must have really shaken the teen. The average temperature in the area that day was 32 degrees Fahrenheit, according to Weather Underground, which means Utah Lake was just barely frozen.
After police arrived at the Lindon Marina around 5:00 p.m., where the teen was set to complete his six-mile-long trek, Utah County Sheriff's Office Sgt. Spencer Cannon said the only thing the officers could do was watch as the boy approached the shore. While the 13-year-old later told police that he could hear the ice cracking with every step he took, his foot didn't break through the ice until his penultimate step.
According to Good4Utah, there have been two incidents in the past week where Utahns fell through the ice. Though the teenager made it off the lake uninjured, Cannon told the boy he needs to find a better way to cool off.
"I wouldn't say walking six miles across ice is a normal teenage response, but a response that isn't given much thought is not an uncommon way for teenagers to react to a situation that they're not happy with," Cannon told KSL.
Maybe next time he's mad at mom and dad, he can go wreak havoc in a local mall or have an illegal sleepover in Ikea.