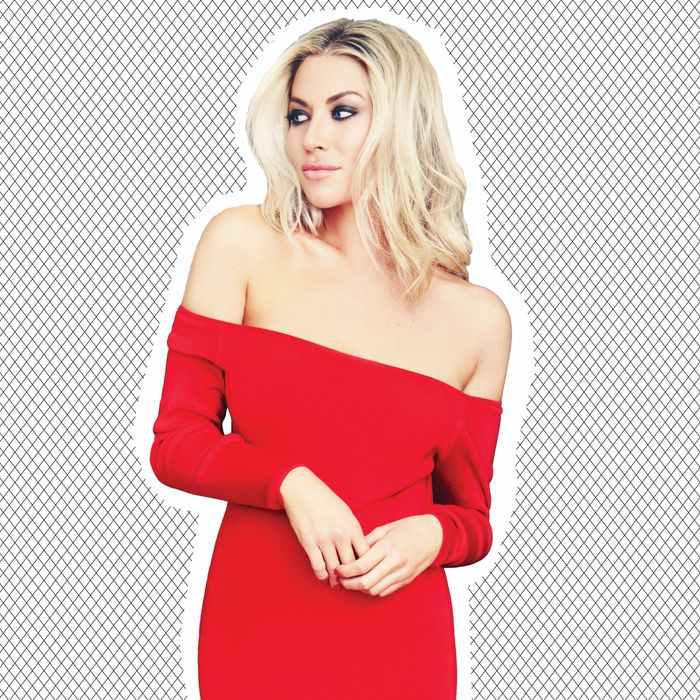 Stassi Schroeder. Photo: Martina Tolot.
Vanderpump Rules, Bravo's sexy reality program about waitresses and bartenders who drink too much, premiered its sixth season on Monday. The show began as a spinoff of the Real Housewives of Beverly Hills in 2013 and now enjoys a cult following; the cast members, who started out working in Real Housewife Lisa Vanderpump's Sexy Unique Restaurant (SUR), are now stars themselves. Chief among them is Stassi Schroeder, a 29-year-old waitress turned influencer. She has 1 million followers on Instagram, a personal style website, and a popular podcast called "Straight Up With Stassi."
That last thing got her in trouble recently. On November 24, she posted and quickly deleted an episode titled, "Are we on a male witch hunt?", which was about as bad as it sounds. Schroeder questioned the motivations of some women coming forward with sexual-harassment allegations in the wake of the Harvey Weinstein scandal. A few particularly upsetting sound bites: She suggested women sharing their stories were hopping on a "hashtag Me Too trend," said it was easy for women to say no to unwanted advances, and claimed "no one can me make me suck someone's dick." Advertisers like Rent the Runway and Simple Contacts announced they were dropping the show, and Schroeder posted a meandering apology letter addressed to her fans (she calls them "Khaleesis") on her website. "I am someone who has always been pro-women," she wrote. "My whole podcast was built around this notion, a notion revolving around women supporting women and having a safe space to discuss whatever we wanted in the most uncensored way possible."
What has Schroeder learned? I met her in the lobby of a Chelsea hotel on the day of the Vanderpump Rules premiere to find out. She was drinking a jalapeño margarita and wearing a black-and-white striped Donna Karan two-piece, like an icy blonde Beetlejuice ready to turn up. We talked about the show, her podcast debacle, and naturally, Trump. Despite everything that is going on in the world, she said, "We're living in a really cool time."
One of my favorite things about tuning into a new season of Vanderpump Rules is seeing how allegiances have shifted during the break. Who are you fighting with this season?
Katie and Kristen obviously are my two closest friends. You really can't break us now. So, basically [I'm fighting with] the other ones. It's a bit up and down. It changes every year; different people become friends with different people. It's always shifting.
I know your ex-boyfriend, Patrick, didn't want to film the show. Do you think it's possible to have a good relationship while being on reality TV?
Of course it's possible to have a good relationship. It's just very hard. Because you are constantly being scrutinized, not only by your producers, but then once it airs [by] people who are weighing in on a scene that you filmed for maybe six hours, but you're only seeing five minutes of it. So it's difficult. Patrick [did film] this season, which makes me feel terrible, because we're now no longer together. So it's like, What did he do it for?
What's dating like for you in L.A.? Are you on Raya?
Well, I got kicked off Raya twice last year. So I'm not on Raya anymore; I'm not on any apps at all. I am dating, but it's only people that I meet through friends. I feel too vulnerable to totally put myself out there on a dating app. And also, I'm not ready for a relationship. I think it's too soon. You know, I'm 29, it's the last year of my 20s, and I want to try and be alone for a little while. But also, obviously, I'm someone who needs attention every once in a while. I go on dates, and I like some people, but nothing serious.
How did you get kicked off Raya?
It's because I talked about it on my podcast! Raya has a giant stick up their ass. It's annoying. Just because you talk about it, you get kicked off.
They want it to be private?
So private and exclusive. Like, you guys have 18-year-old Instagram ho models [using the app]. Like, really? That's what this app is now. It's an app for dudes to find young Instagram models.
Have you heard guys talk about that?
Yeah, I have.
You have a really popular podcast. I know you had to delete an episode titled, "Are we on a male witch hunt?", which apparently questioned the motivations of some women coming forward with sexual-harassment allegations. When you sat down to record that, what was the message that you wanted to convey?
You know, I wrote a really long letter after this, because I spent — once I realized that people were upset over it, I sent out a tweet and said, "I want to hear everyone's stories on either side. Like, email me your stories." And I got so many emails, and I was really upset. I stayed in my apartment for quite a few days, like barely bathed or brushed my teeth, didn't change. And read them. And I realized that this story is so much bigger than me and bigger than anything that I could say. A letter is the only way that I'm going to be able to get out everything I want to say, because no three sentences are good enough to express what I meant and how I felt. So I just stand by that letter.
Can you speak to what was in the letter?
Well, I apologized for the things I misspoke about that were callous and thoughtless. But you know, I just think there is a dialogue to be had, and eventually I hope to be a part of it if there is one.
So you think you would tackle the issue of sexual harassment again on a podcast?
Not any time soon.
Were you surprised by the response to it?
Yeah, I was very surprised. You know, I'm so used to talking with my friends and family about things, and I treat my podcast the same way, so you never know how someone's going to take what you say. I was surprised, yes, because I didn't mean any harm by it. I would never want to hurt anyone. And so that's what's surprising, that people can be mad at you when you only have good intentions.
A few of your advertisers said publicly that they were going to drop their ads. How much does that affect you financially?
I understand they have to protect their brand, but I have a lot of them that are standing by me, and then I have new ones now coming to me. So it balances out.
In addition to the podcast and the show, you work in the style influencer world. What's an average day like for you in L.A.?
We film a lot, so I'd probably have to do that. It takes a while to put together an outfit and get ready. I take notes on my podcast every day. I have a website that I work on as well. It's such a weird world that we're living in with social media in 2017. Like, my parents don't understand what I do. They're like, "What do you mean you have a podcast? You're making money from doing this? You're doing what?" I'm like, yes! You don't understand the world that we're living in now. You don't just have to go to school and become an architect and that's it. There's so many other creative things that allow us to live a wonderful life. We're living in a really cool time.
Where do you see yourself going next?
I mean, I love my podcast, I love doing television, and I would really like to combine that in some digital type of way. Joan Rivers was my idol. Still is my idol. I want to bring humor to things that are normally sterile. Fashion: People take it so seriously. And it's wonderful! I'm obsessed with it, I love it, but let's bring some fun and humor and life into it. So I want to find a way to be the Joan of … to — to just live like Joan Rivers.
That's a great goal. So, I'm sure you have brands sending you things all the time. What's the best thing you ever got for free?Probably diamonds.
Could you see yourself waitressing at SUR or somewhere else again?
No. I mean, I quit SUR more than four years ago now, so it's been quite a while.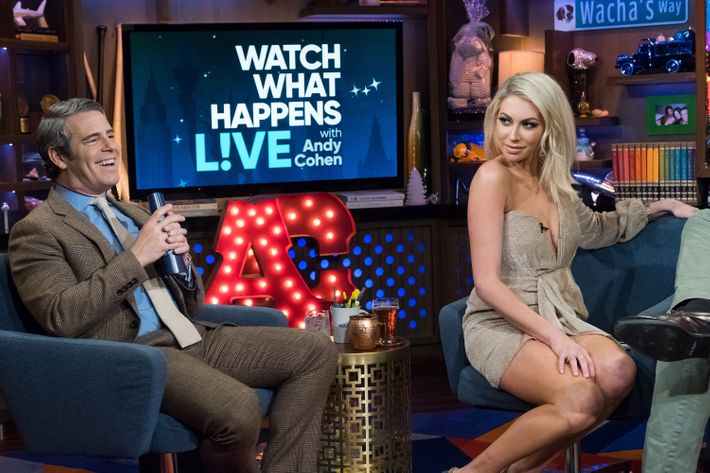 You've talked about growing up in New Orleans and your family's experience with Hurricane Katrina. What do you think about reality stars like Bethenny Frankel using their personal resources to help hurricane victims?
Wonderful. I mean, I believe that everyone should have their cause and help in whatever makes you feel like you're doing something for the world. And she has the funds and the ability to do that, and that makes me very proud to be a part of the same network that she is a part of.
When Charles Manson died, you tweeted that you wished you threw Pinot Grigio in his face. Have you read a lot about him?
I'm big into — I sound crazy when I say this — murder stories. I love horror films and documentaries on that stuff. So, of course I know the Charles Manson stories. It was just such a huge thing that he died. I wish I would have been able to throw a glass of wine in his face!
I remember on Inauguration Day you praised Melania Trump's outfit. Now almost a year later, how do you think she and her husband are doing in the White House?
I don't have any political thoughts. Stylewise, I think Melania is killing it. I think Ivanka, stylewise, is killing it. I mean, they've got a good wardrobe. That first outfit was all sky blue. Sky blue is my favorite color, so I was like, "That's what I would wear."
Did you vote in the election?
I will not say.
If you voted, or who you voted for?
Both. Yeah, I don't talk about politics.
Well, if somebody was going to become president from Vanderpump Rules, who would —
It would be me.
What would your platform be?
Wine for everyone.
This interview has been edited and condensed. Vanderpump Rules airs Mondays on Bravo at 9 p.m. EST.