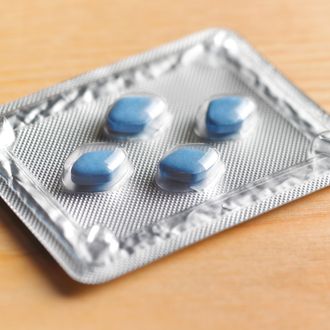 Photo: Peter Dazeley/Getty Images
In the Irish village of Ringaskiddy, presumably at the end of a rainbow, lies the Pfizer factory where the active ingredient for the world's Viagra has been produced since 1998. The Sunday Times sent an intrepid reporter to talk to residents and, spoiler, they simply could not stop making boner jokes.
Here's Debbie O'Grady on the factory fumes: "One whiff and you're stiff."
And Debbie's mother, Sadie, backing her up: "We've been getting the love fumes for years now for free."
Also Debbie's mother Sadie: "I'm a flirtatious woman, a lot of us are round here."
Fiona Toomey ramps it up a step further, claiming: "Even the dogs here have been known to walk around in a state of sexual excitement" and "I think that Viagra must have got into the water supply."
A Pfizer spokeswoman and total buzzkill shut this talk down, saying, "Our manufacturing processes have always been highly sophisticated as well as highly regulated."
Now if they could only tell us why every woman in a Viagra ad poses like this.