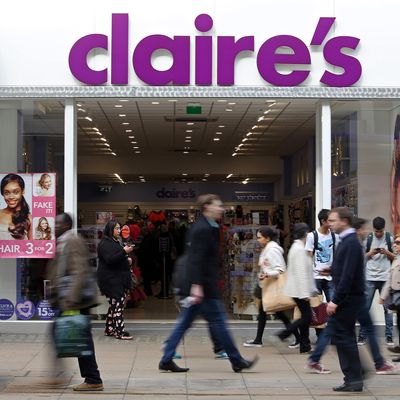 Claire's.
Photo: Chris Ratcliffe/Bloomberg via Getty Images
Claire's, the store where you probably got your ears pierced and purchased hundreds of those colorful, raunchy jelly bracelets, has pulled a number of its makeup products over reports that they may contain the cancer-causing toxin asbestos.
The company announced the recall on Saturday, after an NBC affiliate in Rhode Island reported that a local mother had become concerned about the ingredients in her 6-year-old daughter's glitter makeup kit from Claire's, and sent the product out for testing. When the makeup tested positive for tremolite asbestos, the woman purchased and tested Claire's products from nine different states, all of which were also found to contain asbestos.
In a statement put out on its Twitter page on Saturday, the company said: "We have taken the precautionary measure of pulling the items in question from sale … Once we have more information and have the results of the investigation we will take the necessary action. If you have items you wish to return in the interim period we will issue a refund."
Claire's has also said it is testing the cited products, and that in the meantime, it will issue full refunds to concerned customers. So far, nine products have been recalled, including the Pink Glitter Cellphone Makeup Compact, the Bedazzled Rainbow Heart Makeup Set, and the Pink Glitter Palette with Eyeshadow & Lip Gloss.