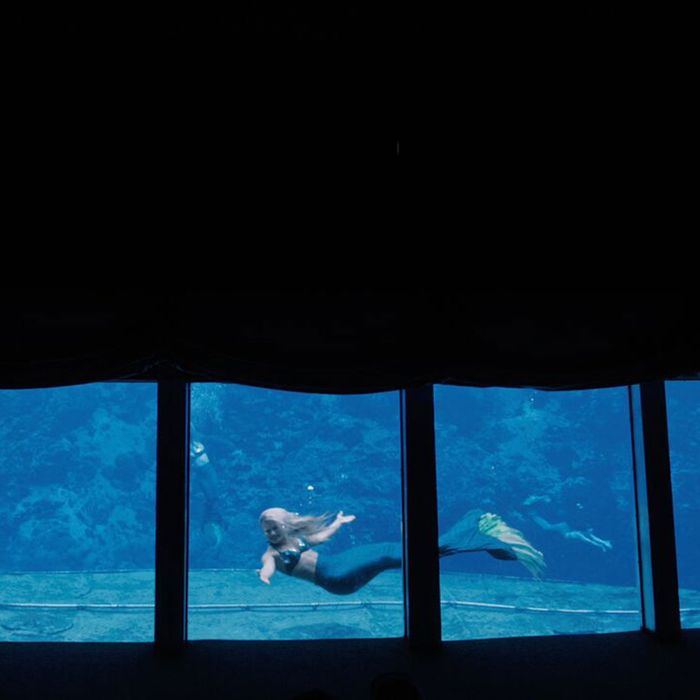 Photo: Francis Chen/mermaid movie
If you're looking for a refreshing palate cleanser in the final weekend of 2017, may we suggest checking out The Spring? It's a short film about the real-life mermaids of Florida's Weeki Wachee amusement park, streaming now on Amazon Prime Video.
Directed and produced by novice filmmaker Delaney Buffett, The Spring was made in coordination with a team of seven female filmmakers, all 25 or under (including associate producer Katie Corwin, Buffett's childhood friend, and producer Chloe Corner, her college roommate). Last August, the team packed into a van and traveled to central Florida to visit the famous mermaid exhibit at Weeki Wachee Springs State Park, where a group of women have been performing daily "mermaid" shows since 1947 — a sort of underwater synchronized-dance performance, during which they use an air hose to breathe. "I thought this place was kind of a time capsule of old Florida, and I wanted to tell a story about these women and ask the question: Why would someone become a mermaid?" Buffett told me.
Once at the park, Buffett interviewed different generations of Weeki Wachee mermaids, both the young women who work there currently and older alums who return each year for an annual "Sirens" reunion. What they found was a group of women who have formed a close-knit community, and for whom mermaid-ing is more than a job. "We were all very jaded coming from New York and L.A., yet these women genuinely love what they do, which I rarely see with my friends," says Buffett. "In the spring, they can find a kind of tranquility they can't find elsewhere in their lives. It's not just a job to them — it's a part of their being." Many of the older women would tear up as they spoke about their time at the park, and described dreaming about returning in the spring. "These women have shared their lives with one another, and they keep coming back," she tells me.
For those of us who don't spend our nine-to-fives doing underwater twirls and spins in mermaid tails, watching The Spring is a restorative viewing experience. "Today, with social media, I think everyone's always defining success and happiness by looking at what other people are doing, and there's a constant fear of missing out. For these women, success wasn't about that. It was about doing what they love and loving coming to work every day, and it didn't matter what anyone else was doing," explains Buffet. "They practice a sort of mindfulness that I think is super important for everyone. It's great to love what you do, but its also great to be present so that you can love what you do."
Watch The Spring here.