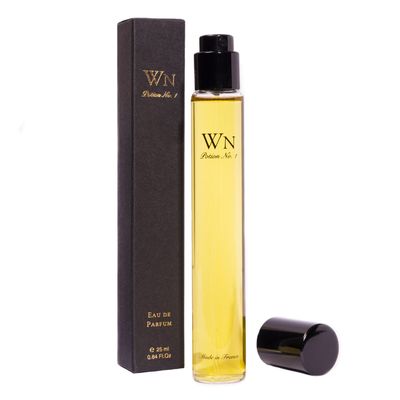 Wendy Nichol designs jewelry, leather goods, and goth-y eveningwear in a tiny studio in Soho. Customers were always telling her how good it smelled, so she finally decided to try and capture it in a perfume.
"Everybody says, 'Wow, it smells like such expensive leather in here!''" Nichol jokes. "But we always use natural oils in the studio and diffuse them while we're working, so it's things like lavender, eucalyptus, and citrus oils. There's also notes of the smell of New York, which is a tiny bit of coffee and marijuana."
All Nichol knew about fragrance was that she generally disliked it, preferring natural oils and aromatherapy. So when a friend introduced her to some gardeners in the south of France, Nichol showed up to her first meeting carrying the Witches' Almanac, purple thistle, and a eucalyptus branch. "I just wanted to give them a visual idea of what I thought it smelled like, which was really, for me, the only way to think about it at that point."
After a year of back and forth, Nichol settled on the formula for what she calls Potion No. 1, an herbal fragrance heavy on sandalwood, eucalyptus, and vetiver. Bridging the gap between aromatherapy and fragrance, it packs (potential) benefits like purifying the air, lowering blood pressure, boosting antioxidants, and even clearing your sinuses. It's darker in color than most perfumes, almost green, because Nichol wanted the highest concentration of each oil; she strongly believes in their medicinal and magical qualities. "I used to have this aromatherapy spray that I would sometimes spray inside the changing room, and like nine times out of ten, the person would end up buying something," she says. "Oils and aromatherapy can have such a huge impact on you. I literally feel like this is a spell that I worked on."
As mythical as this sounds, it aligns with my experience. Aside from a teenage dailance with Chanel's Coco Mademoiselle, I've never worn fragrance. I find most of them overpowering — either too froufrou and floral or too heavy and old-fashioned. I immediately coveted Potion No. 1, and as a longtime Wendy Nichol customer, I can attest that it truly smells like the boutique. It's woody and dark and sexy — I find myself reaching for it more at night — but still subtle and earthy.
I also love that it's buildable. "If you spray it once, you could do yoga with it and only you'd smell it," Nichol says. "Twice, it's something your partner notices. Three times, it's definitely going to be noticed as you walk by."
In September, Nichol held her spring ready-to-wear show in the back room of Emilio's Ballato, one of New York's iconic red-sauce joints. Appropriately, pepper is what gives Potion No. 1 its kick. "It's funny, pepper is not a big deal because we have it around us all the time," Nichol says. "But the smell of pepper in the air is really soothing, and it also brings the heat into the fragrance. I like that the pepper adds a little bit of sexiness to it." Consider it a worthy substitute for coffee and marijuana.