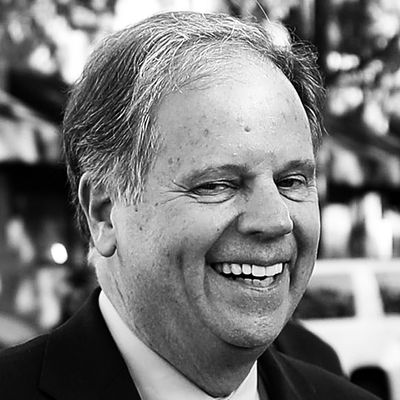 Senator-elect Doug Jones, who does not fear a colorful tie.
Photo: Joe Raedle/Getty Images
Well, first of all, he's not Roy Moore. But beyond that, Doug Jones, the 63-year-old lawyer who defeated Moore in the Alabama Senate race on Monday night, had never run for office before. He also openly believes "in science"; thinks that women should be paid an equal wage for equal work; wants to raise the minimum wage; argues everyone has the right to quality health care; and opposes discrimination. He also isn't afraid of colorful neckties; has three kids, two grandchildren, and has been married to his wife, Louise, for 25 years and wished her a happy anniversary during his acceptance speech. (And specifically for "kicking me in the rear end when I was down.") Here are a few more things to know about him:
He grew up in the Deep South during segregation.
Jones grew up just outside of Birmingham, in Fairfield, Alabama. His father worked for U.S. Steel and his family supported segregationist governor George Wallace. During the desegregation of public schools in Alabama, Jones attended Fairfield High School and says he tried to "build unity during what were often tumultuous times." One of his classmates, Darnell Gardner, who is black, told the New York Times, "He kind of befriended me first. He was someone I could go to and say, 'Hey Doug, I got this problem, can you help me?'"
He successfully prosecuted two KKK members for the Birmingham church bombing.
Working as U.S. Attorney, Jones made it his mission to prosecute Thomas Edwin Blanton Jr. and Bobby Frank Cherry, two members of the Ku Klux Klan for their part in the 1963 Birmingham church bombing which killed four young African-American girls and injured 22 others. Both men were eventually found guilty, and sentenced to prison.
He is pro-choice.
Jones says he stands with Planned Parenthood and a woman's right to choose, and supports LGBT rights. He said in a recent interview: "To be clear, I fully support a woman's freedom to choose to what happens to her own body. That is an intensely, intensely personal decision that only she, in consultation with her God, her doctor, her partner or family, that's her choice. Having said that, the law for decades has been that late-term procedures are generally restricted except in the case of medical necessity. That's what I support. I don't see any changes in that. It is a personal decision."
He is pro-LGBT rights.
Jones has opposed President Trump for banning transgender people from serving in the military. He also said it was "wrong" to withdraw the Title IX policy on how to treat transgender students in schools, and has said "we've got to protect," transgender rights.
He has been a lawyer for nearly 40 years.
Jones graduated from the University of Alabama with a degree in political science and eventually got a law degree from Cumberland School of Law. In 1980, he started as an assistant district attorney in Birmingham. In 1997, he was nominated for U.S. Attorney for the Northern District of Alabama. But he's not afraid to criticize the system: "I have seen the strengths and weaknesses of our system of justice — I know it needs to work harder for everyone to be equal," he says in his platform.
He is pals with Joe Biden.
Jones worked on Biden's 1988 presidential campaign. Biden endorsed Jones's Senate campaign, appeared at a campaign rally in October, and he and President Obama recorded robocalls for the Jones's Alabama Senate campaign.