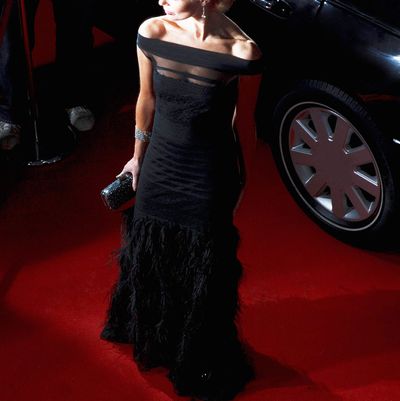 Photo: Tom Merton/Getty Images
In December, it was reported that stars Jessica Chastain, Meryl Streep, and Emma Stone were planning to wear all black to the Golden Globes this year to protest sexual harassment and stand in solidarity with its victims.
The movement quickly grew from there. About a week later, stylist Ilaria Urbanati, who dresses Dwayne "The Rock" Johnson, Tom Hiddleston, Garrett Hedlund, and Armie Hammer, shared that "all her guys" will be wearing black, and encouraged others to do the same.
"Safe to say this may not be the right time to choose to be the odd man out here…" Urbanati wrote in an Instagram caption.
People reports this is expected to be one of the first sartorial protests at the Golden Globes, but the issue will be central during awards season. The SAG Awards, hosted by Kristen Bell, will feature all-female presenters, and Meryl Streep has said she's working with high-profile actresses to prepare a list of nonnegotiable demands.
On January 1, the decision to wear black at the Golden Globes was given clearer context when 300 prominent actresses and female agents, writers, directors, producers and entertainment executives announced their initiative, Time's Up with an open letter published in the Times.
"The struggle for women to break in, to rise up the ranks and to simply be heard and acknowledged in male-dominated workplaces must end; time's up on this impenetrable monopoly," the letter reads.
Most notably, the Time's Up initiative includes a legal defense fund, backed by $13 million in donations, to help blue-collar workers protect themselves from sexual misconduct and the fallout from reporting it. Among other suggested actions, Time's Up also requests that women walking the red carpet at the Golden Globes "speak out and raise awareness by wearing black."
While the decision to wear all black was criticized by some – including actress Rose McGowan, who tweeted that it was a "silent protest" that "didn't halt anything" – Time's Up provides a clear and necessary action plan, which will perhaps change peoples' minds on the red carpet.
The Golden Globes are scheduled to air Sunday January 7 and will be hosted by Seth Meyers.
This post has been updated for context.