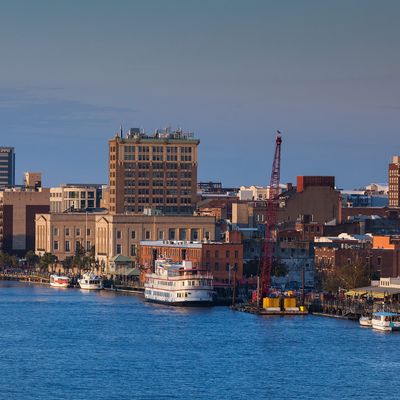 Wilmington, North Carolina.
Photo: Walter Bibikow/Getty Images
The people of Wilmington, North Carolina, are under siege. The city has been overtaken by the overwhelming smell of cat pee, and no one, human or feline, seems to know where it's coming from.
Although the smell is reportedly "familiar" to many in Wilmington (ah!) dozens of residents complained that the smell had become unbearable over Thanksgiving weekend.
"I put a pillow over my face just to give myself something to breathe through," 11-year Wilmington resident Nick Zachetti told the Wilmington Star-News.
"When you smell that, you don't think, 'Oh, I want to bottle that and do a Chanel ad around it,'" his neighbor, Pamela Waite confirmed.
After receiving several complaints, Brad Newland, Wilmington's regional office supervisor for the North Carolina Division of Air Quality wrote:
"I know that the catty odors have impacted downtown from time to time, and in my personal experience, the odor seems to vary. Sometimes it smells like pure cat urine to me, and sometimes it smells similar but different," Newland said, though "similar but different" to cat pee still seems similar enough to be a problem.
The North Caroline Department of Environmental Quality (DEQ) has begun investigating the smell, and presumably looking for answers to difficult questions like, where is the smell coming from, what's up with the cats in Wilmington, and how much is a "bearable" scent of cat pee?
This is, incredibly, not the first time the town has been blanketed in the scent of feline urine. Newland studied the phenomenon in the '90s and despite repeated exposure to the scent, found no answers:
"I remember standing in a plume of this stuff and taking these samples and thinking, 'I know I've got it now.' But when I took it back to the lab, there was nothing to be found, nothing to be detected."
The DEQ suspects the smell may be the result of chemical reactions coming from factories, though that sure sounds like what the cats would want you to think.