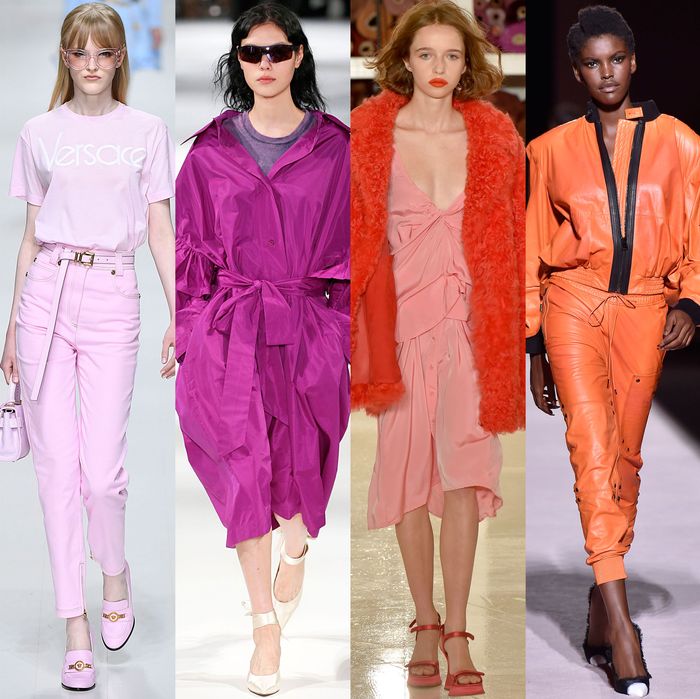 Clockwise from left: Sies Marjan, Tom Ford, Balenciaga, Adam Selman, Dior, Gigi Hadid in Cotton Citizen, Versace, Stella McCartney.
Photo: Getty Images
Growing up, my dad's closet was like a portal to monochrome Narnia. Whenever I was in need of a good hiding spot, I would climb inside it, burrowing into his hanging shirts, pants, and suits — all of which were the same hue of black. This particular darkness made me feel safe, and I loved getting lost in the color that was him.
After my dad passed, I started to build my own wardrobe around this memory. Enveloping myself in the color black made me feel closer to him, as though I was continuing his legacy. It gave me the same sense of security and self-hood that his closet once did.
I used to think black was the only color that could do it for me — that this was as good as I was ever going to feel. But recently, after a series of personal, professional, and cultural shifts, I finally decided that I was allowed to try on other colors. It was only then that I realized the appeal of monochrome is less about which color you wear, and more about how coordinating in general makes you feel. It's a state of mind. This year, I couldn't quit it.
Monochrome is an emotional way of dressing — maybe even the most emotional way of dressing. Colors, after all, traditionally project specific feelings: black for grief, red for anger, green for envy. And on a practical level, color-coordinating makes you feel like you have your shit together, as though you've hacked the oftentimes dizzying puzzle of getting dressed in the morning. It's outward-facing maximalism for an inward-facing minimalist, or a very chic security blanket. When nothing else makes sense, at least you can feel like your wardrobe does. Monochrome is impossible to mess up.
Though I'd like to personally take credit for the recent resurgence of monochrome, the trend started on the runway. Givenchy, for example, did an all-red collection for fall 2017 and Dior showed an entire navy-blue collection that same season. Newer names like Mansur Gavriel and Sies Marjan are also building their brands off of signature, visually stimulating color palettes. Meanwhile, off the runway, celebrities like Bella and Gigi Hadid are apparently auditioning for the Blue Man Group. Color-coordination is arguably the new power dressing: It's what makes us feel our best right now, and it gets us noticed.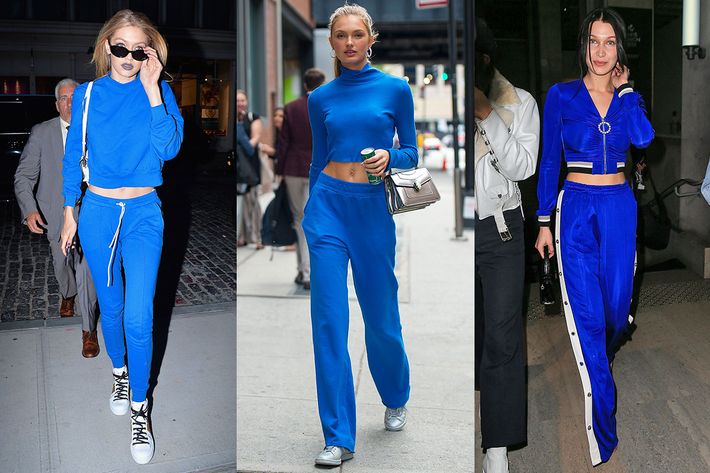 Last year, after Trump was elected, I dove deep into color-coordinating without realizing what I was doing. Around then, I also reached a quarter-century in age and started a new job, which made me feel like I needed some sartorial touchstone to grab on to. As a result, my wardrobe began to reflect a borderline-manic desire to be in control of all of life's minute choices, as well as to project some semblance of a new, made-over identity.
My gateway color was pink because subliminal messages to buy into it were (and still are) everywhere. But a funny thing happened when I wore all one color that wasn't black, gray, or navy: I got compliments. And it was so easy! So I tried some more colors: First yellow, then green, then red. By March, I'd even made it beyond ROYGBIV, matching my polka-dots, checkers, leopard print, and plaid. Coordinating was my thing and it made me feel stylish, bold, confident — and happy.
Too much of one thing is never good, though — even with coordinating. Soon, I quite literally found myself blending in with the walls. "Are you sponsored by Pantone?" one friend joked in an Instagram comment.
"Do you really want to purchase a chili pepper–print, two-piece bathing suit and a matching bucket hat?"a Capital One representative called to ask in so many words this summer.
"I don't know about this," another friend's father said one evening in reaction to my gingham-print caftan and checkered sneakers, shaking his head.
I realized then that I'd finally gone too far — forcing a coordination so intensely that it actually read as clash. Perhaps I'd fallen for the Streisand effect. By trying to project a cohesive, stable sense of self, was I actually revealing to the world that I was total mess?
Now that I've got some perspective on my personal journey with color-coordination, I can see that I'm not crazy, nor am I alone. Everyone's addicted. It's happening in fashion, yes, but it's also being adopted on Instagram, where influencers like @HappilyGrey have taken coordinating's visual appeal beyond clothes to create an entire aura for their profiles. In culture, performance artists like Solange Knowles are exploring color theory as a means to communicate. And in advertising, companies like Dig Inn and Casper are harnessing the emotional power of color to sell us everything from grain bowls to mattresses.
In an email, Jenna Josepher, a director and designer currently working in ad marketing for the Times, told me recently that up until a few years ago, she was "afraid of color," and like me, wore all black just like her Manhattanite mother. Now, color is her signature, and her eye-catching work has helped her gain almost 50,000 Instagram followers. "My deviation to wearing color is me trying to find my own voice," she wrote in an email. "Designing a color composition is meditative and helps me feel centered. Something would look unfinished to my eye without coordinating the colors, so I'm unable to stop!"
For me, giving up color-coordinating now would be like cutting chocolate out of my diet, or throwing out that really soft T-shirt I've had forever. It's still a compulsion that feels integral to who I am and how I exist in the world — especially as we close out 2017, which is shaping up to be dark until its final day.
As winter comes, I find myself burrowing into the color black again. But don't worry: I already have my New Year's Day outfit planned. When 2018 begins, I'll be stepping out in head-to-toe glitter.