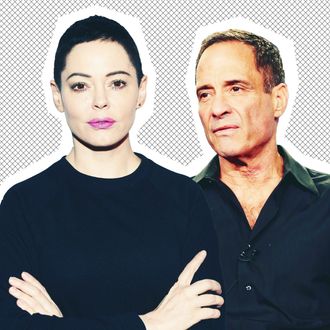 Rose McGowan and Harvey Levin.
Photo: Getty Images
On Wednesday night, Rose McGowan sent a short series of tweets accusing TMZ founder Harvey Levin of harassing her. She wrote that Levin is "hanging something over" her head, apparently in retaliation for her outspokenness about Harvey Weinstein. And she went so far as to claim that Levin is on Weinstein's payroll. What is going on?
McGowan, who says Weinstein raped her when she was 23, has used Twitter before to call out men in Hollywood who she says aided and abetted Weinstein's behavior. (Weinstein denies all allegations of nonconsensual sex.) In October, she accused Ben Affleck of lying about how much he knew about Weinstein's predation. (Affleck declined to comment on McGowan's tweets in a recent interview on the Today show.) McGowan's claims about Levin are more extreme, but it doesn't mean they aren't worth considering.
We have no idea what Levin may or may not have on McGowan, but he is friendly with Weinstein. As our favorite TMZ expert, the anonymous Twitter account Pop Culture Died In 2009, explained Wednesday night, Levin is friendly with Weinstein's lawyer, Blair Berk. TMZ also regularly works with Weinstein's PR firm, Sitrick and Company. Look at the list of previous Sitrick clients, and it's obvious how the firm has influenced TMZ's coverage over the years.
PCD2009 specifically noted TMZ's unfriendly and misogynistic coverage of Kesha after she accused music producer Dr. Luke of sexually assaulting her. Dr. Luke was a Sitrick client.
Even without the Weinstein connections, it's not unimaginable that Levin would try to disgrace McGowan for speaking out against abusive men in Hollywood. Remember how TMZ treated Amber Heard when she accused Johnny Depp of domestic violence? In sexual and domestic-abuse cases involving celebrities, TMZ regularly sides with the (often very powerful) accused, painting accusers as unstable or untrustworthy.
This is also not the first time McGowan has claimed that she is being targeted by people associated with Weinstein. We know that Weinstein used private investigators to gain information about McGowan and his other accusers. In November, McGowan talked with Ronan Farrow at The New Yorker about facing a felony drug possession charge after airport workers found cocaine in a wallet she left behind on a flight in January. The timing of the arrest, she said, felt suspicious. (She said she will plead not guilty.)
Levin could have information about that arrest, or something else, or nothing at all. TMZ has, in the past, made coverage deals with celebrities who are motivated to keep negative stories from coming out (most notably with Justin Bieber). It is possible that Levin has been in contact with McGowan to strike a similar deal.
We have reached out to Levin and McGowan for comment, and will update this post if we hear back.