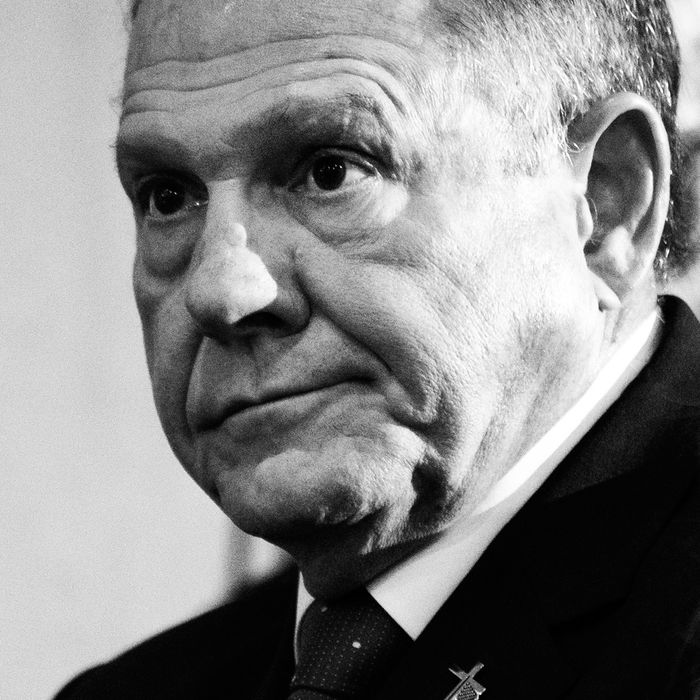 GOP Senate candidate Roy Moore.
Photo: Drew Angerer/Getty Images
Eight women have now accused Republican Senate candidate Roy Moore of sexual misconduct. Moore has denied their claims, and on November 29 said, "I do not know any of these women, did not date any of these women, and have not engaged in any sexual misconduct with anyone."
But now, one of the women, Debbie Wesson Gibson, has shared new evidence with the Washington Post that Moore did know her, and that they had a relationship. Gibson said she briefly dated and consensually kissed Moore when she was 17 and he was 34. She said she came forward after watching Moore repeatedly lie about their relationship.
This news comes as President Trump has given Moore his full endorsement. At the same time, Senate majority leader Mitch McConnell has backed away from his original call for Moore to resign.
Gibson told the Washington Post she was going through Christmas decorations in her attic when she discovered her high-school "Memories Book." In the book, she discovered notes she had taken about a date with Moore, and a card that he had given her.
"Happy graduation Debbie," the card read in slanted, cursive handwriting. "I wanted to give you this card myself. I know that you'll be a success in anything you do. Roy."
Of course, Moore's handwriting has been the subject of debate. When another accuser, Beverly Young Nelson, came forward and showed Moore's signature in her yearbook, the Senate candidate claimed it was forged. (Handwriting analysts disagreed.)
The Washington Post again enlisted a forensic examiner to review the similarity between the handwriting in Gibson's card and Nelson's yearbook.
The forensic examiner told the Post: "The style of writing, as well as certain letter features, appear to be similar." See both samples below.