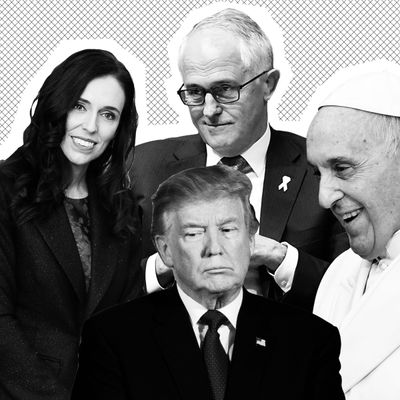 Roasted.
Photo: Getty Images
For the most part, 2017 has been a rough year for foreign policy. The Trump administration has instituted travel bans for majority Muslim countries, the president has said he would like to compare IQ tests with the Secretary of State, and every day seems to bring us closer and closer to full-on nuclear war with North Korea. But in the midst of chaos, one area of diplomacy has thrived — I'm talking, of course, about sick burns.
Trump has led the charge, with his incessant tweeting, bizarre handshakes, and by flagrantly hitting on First Ladies in front of their husbands, but the international community has more than held their own, carefully deploying trenchant imitations of the president, snide comments, or straight up body-shaming. Enjoy some of this year's sickest diplomatic burns below.
Australian Prime Minister Malcolm Turnbull
It's safe to say there's no love lost between Trump and Australian prime minister Malcolm Turnbull. During their first phone call shortly after he was sworn in, Trump complained at length about an Obama-era deal in which the U.S. agreed to accept 2,000 refugees from Australia.
"You have brokered many a stupid deal in business and I respect you, but I guarantee that you broke many a stupid deal. This is a stupid deal," Trump said of the deal, which he thought was stupid.
In June, Turnbull got his revenge by very publicly mocking the president's bombastic style of speech at the Parliament House's annual Midwinter Ball: "The Donald and I, we are winning and winning in the polls. We are winning so much. We are winning, we are winning like we have never won before. We are winning the polls. We are!"
Turnbull later insisted his speech was a "good humored roast." Sure.
Read the full story here.
Turnbull isn't the only high-ranking Australian to diss the president, either. After Trump remarked that France's First Lady, Brigitte Macron "is in such good shape," Australian foreign minister Julie Bishop posed a thought-provoking question on a television program: "It's a rather interesting comment to make. I wonder if she could say the same of him," she mused.
New Zealand Prime Minister Jacinda Ardern
The southern hemisphere has not taken kindly to President Trump. During an international summit in Vietnam in November, Trump met Jacinda Ardern, the newly elected prime minister of New Zealand who had the perfect comeback to one of Trump's snide remarks.
'This lady caused a lot of upset in her country," the president reportedly joked to the person next to him, pointing at Ardern.
"Well, you know, only maybe 40 percent," Ardern said she answered, adding "You know, no-one marched when I was elected."
Ouch.
Read the full story here.
The First Lady of Japan
In a July interview with the New York Times, Trump claimed that during a G20 summit dinner, he was seated next to Akie Abe, the First Lady of Japan who, according to him doesn't speak a word of English, not even "hello." Shortly after the interview was published, however, a video began to circulate of Ms. Abe giving the keynote address at a Ford Foundation event in 2014, in English, raising questions about whether or not Abe pretended not to speak English in order to avoid talking to Trump.
Read the full story here.
The First Lady of Poland
First Ladies seem to have done their best to limit their interactions with Trump, and for good reason. Although she didn't pretend not to speak English, First Lady of Poland, Agata Kornhauser-Duda curved the president by ignoring (accidentally or pointedly, you decide) his handshake during an official visit to Warsaw in July.
To be fair, she's not the only woman who has refused to touch the president's hands.
Read the full story here.
The Pope
Pope Francis isn't like other Popes; he's a Cool Pope — he blesses Lamborghinis, talks openly about therapy, and has some sick burns for Trump. When the president visited the Vatican in May, His Holiness mercilessly dragged Trump by body-shaming him to his own wife (he asked Melania, "What do you give him to eat — potica?" — a nut-filled cake from her native Slovenia which I suppose is quite fatty), and then refused to smile for a picture. Amen.
Read the full story here.
Russian President Vladimir Putin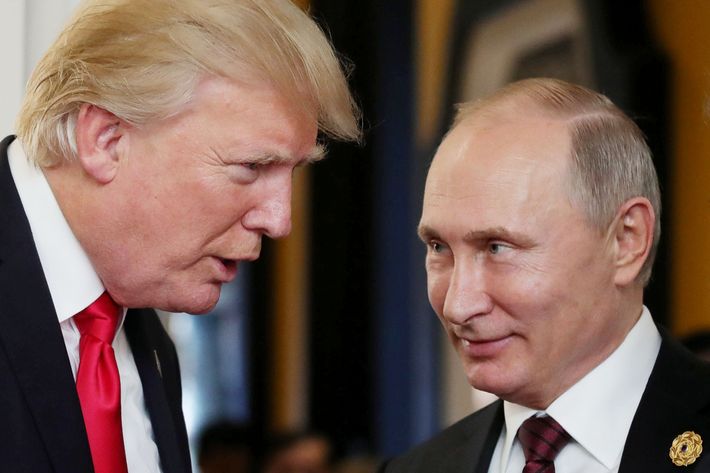 I know what you're thinking: "But Trump and Putin are friends!" Exactly, which is why Putin's words cut even deeper. When asked in September about the United States closing three Russian consulates, Putin answered that Trump is "not my bride, and I'm not his groom." Aw!
Read the full story here.
Kim Kardashian West
In August, the Supreme Leader of Calabasas gave a decisive, negative ruling on the 45th president. In a cover story for Harper's Bazaar Arabia, KKW said "Anyone can run the U.S. better. My daughter would be better." North West is 4 years old.
Read the full story here.