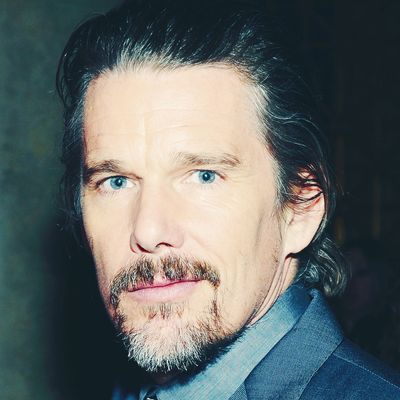 Ethan Hawke.
Photo: Craig Barritt/Getty Images for Landmark Vineyards
Ethan Hawke is not on Tinder, as far as I know. In fact, he's currently married to the woman who formerly worked as a nanny for him and his ex-wife, Uma Thurman (drama!) But this weekend, the actor gave an interview with The Guardian which reads like the lengthy, earnest Tinder bio of someone whose pictures would include at least one moody black-and-white picture of them playing a guitar, and probably a shot of them hiking. Read some of the highlights below, and decide whether you would swipe left or right.
I have so many bad habits it's impossible to measure the worst. My son would say I don't take enough care with how I dress, my daughter might say I work too much, and my wife that I can't seem to help in the kitchen at all. But in my opinion I have none.
An intriguing mix of confidence and self-deprecation, but also he mentions his wife, so … swipe left, I guess.
I am a giddy, ludicrous optimist. My team can lose and I'm already thinking about the next season. You can't bring me down. My dad is the same and I think it's partly one's make-up and partly how you see the world. You can gain a tremendous amount of joy from the sun coming up.
Ethan sounds like the kind of guy who would call you in the middle of the night and ask you to go star-gazing. Exhausting, but maybe kind of great? Right swipe, with the understanding that you might reach a point after the fourth date where you have to pretend to move cities/fake your own death.
The most romantic thing I have ever done is have sexual intercourse with a woman. It doesn't get any better than that. You talk about candlelight? Being really connected to another person is about as good as it gets.
The phrase "sexual intercourse with a woman" is a real bummer, but he also sounds like someone who might write poetry about you and you're halfway through your second glass of Sauvignon Blanc, so, swipe right.
The idea that Hollywood is no longer a boy's club is simply not true. I've made 50 films and I've been directed by woman two and a half times. […] I have three daughters and because of that I see misogyny more clearly than ever before.
Come on — the "as a father of daughters" line? Swipe left.