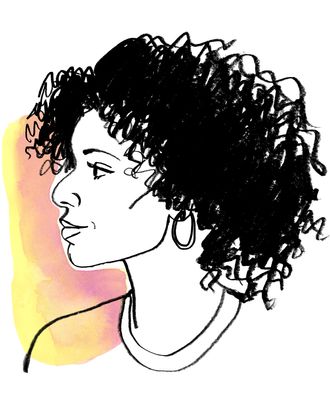 Illustration: Lauren Tamaki
Zerlina Maxwell has built a career around expressing her political opinions with wit and intelligence. Her Twitter feed gained the attention of President Barack Obama first, then Hillary Clinton, who hired her to lead the progressive-media outreach during her presidential campaign. Maxwell is now the director of progressive programming for SiriusXM, where she also has her own weekly radio show, "Signal Boost." She regularly appears as a political analyst on prime-time TV, and speaks about sexual assault and other topics at colleges in engagements across the country. Here, she shares how she gets it all done. 
On her morning routine:
I work out as soon as I wake up. I do Beachbody or Insanity videos on my iPad. I try really hard not to look at my phone until I'm done working out. My commute is at least 45 minutes, so I can listen to a good chunk of an audiobook in that time. I have an Audible subscription. I am reading a lot of books on communication and management because I'm in my first real management position right now. And I'll catch up on the news. I'm flagging things, sending them to my producers so I can make sure we're covering all the breaking stories. I'm always reachable en route — all the producers are on a group chat — because who knows how long the ride's going to take. The subways are a hot mess.
On her day-to-day:
I'm the director of progressive programming at SiriusXM. I started here in February 2017, after the Hillary campaign. The majority of my day is managing my in-box, managing my team, talking to my producers. I hate meetings. I hate them. I hate meetings, because I like to do stuff. You have all this work to do and you're sitting here in this meeting that is pointless. I don't like conference calls either. I come from campaigns, where you'd have like 55 field offices calling in. Luckily, we don't have a lot of meetings here.
On switching from media to politics back to media:
I think I've found a place in media where I feel like I'm contributing just as much as I would be if I worked in a congressional office, or for a candidate who's running. If I had gone to the Washington Post or CNN, I wouldn't have the same flexibility to exclusively advocate for a particular side. Our channel's literal tag line is, "We are the home of the resistance." We try to amplify the good work that people are doing. It's bringing on activists, bringing on folks from the DNC, bringing on candidates who are running. I'm allowed to be explicitly progressive.
On being Twitter famous:
It's never not weird when I say, "I'm Zerlina," and people say, "Zerlina from Twitter?!" I'm Zerlina from the real world, but I also have a Twitter following. I think I realized early on how powerful Twitter was, and that I could use it to strategically plan my career. I used it to get freelance-writing gigs when I was in law school; I'd give editors a #FollowFriday. It's a truly democratized tool, particularly for people of color. I know for a fact that I've gotten specific opportunities because of my Twitter feed, like going to the White House, or going on Air Force One to Selma with President Obama, or joining Hillary's campaign. The first time I met Hillary Clinton, she said, "I love your tweets." That's what she said! Every single time we talk, she always says, "Keep raising your voice, keep speaking your truth. Don't back down ever." I feel like my Twitter feed is my power. Since Hillary said I have to keep tweeting, I have to keep tweeting.
On staying calm during Fox News appearances:
I was a competitive gymnast until I was about 15 years old. I was going to nationals, practicing six hours a day, very serious. And there's something about the poise you learn in gymnastics — I know how to stay composed. I'm not saying I don't walk off the set and curse at the top of my lungs. But when I'm on Sean Hannity, I'm not debating Sean Hannity. He's performing a very specific character. I don't care what Sean Hannity is saying. They put me on the show so they can point and say, Look at these stupid liberals, they're destroying America. So I give a composed articulation of whatever argument I'm trying to communicate, and I shatter their assumption.
On finding the energy to combat Donald Trump:
My colleague Jess says it's a relay, not a marathon. At the same time, it is exhausting. I think about how messed up the world is, and I'm like, maybe I should just move to New Zealand. But I don't want to give up yet. Donald Trump is not going to run me out of here. That's what keeps me going: I don't want to let Donald Trump win. I'm going to Jamaica soon — I need to sit on a beach and have no one speak to me. I get to the maximum level of stress and then it's time-out. I'll rejuvenate my reserves, my emotional energy. Then I'll try again. It's still going to be a dumpster fire when I get back.