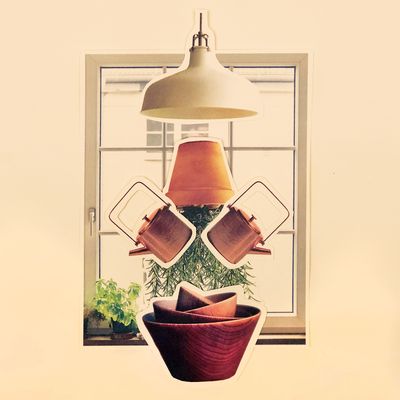 Photo-Illustration: Stevie Remsberg; Photos: Getty Images

The new year is the perfect time to finally take up ceramics, learn Mandarin, start a book club, try rock-climbing, or plant a garden. In 2018, the Cut has practical advice on trying something new. Make bowls, not just resolutions.
In my 20s, I decided to officially make cooking my hobby. I'd always liked food, and felt comfortable in a kitchen cooking for a crowd, but I didn't own my own tools. So, in an effort to become a proficient home cook, I made a family-style dinner for six every Sunday, and my roommate and I would try something ambitious that required a new gadget or pan. That's how I came to own a deep fryer, but then, also, to realize I prefer what I named "shallow frying" (a.k.a.: sautéing). Amid this trial and error, I developed a taste for minimal tools with maximal impact, which might have had something to do with having a small kitchen with no dishwasher, but it became an ethos for how I would cook forever.
Like wardrobes, kitchens are improved when you remove unnecessary, unused items. Start basic and work your way up, adding to your collection slowly, as needed. If you're trying to achieve a sense of purposeful serenity in your kitchen, it helps to limit the tools to those you really use, and to get the most appealing options in your price range. Below, I've gathered a few items I can't live without. There are so many more to add, but if you're trying your new cooking hobby, any of these items will get you off to a good start.
Good, Cheap Plates That Mix-and-Match
Ikea has the best range of simple ceramics at prices that cannot be beat. Their matte-finish Dinera line is a replica of a much fancier brand, and looks great in the off-white color or even mixed-and-matched. These are cheap enough that you won't feel uptight if a guest drops one, or you have to throw one in anger occasionally.
They're not cheap, but I am a fan of all Kaico products, specifically, the saucepan. The wooden handle means this can't go in the dishwasher, but the white enamelware cleans up easily with some baking soda and lemon. I have only three pans, a large deep pot for boiling, a frying pan, and my one saucepan which can be used to make small amounts of pasta, cook rice, warm soup, boil lentils, couscous, and more.
La Chamba's Black Clay Sauté Pan is part of the range of beautiful, Colombian black clay cookware. It looks great on the stove and transfers well to the table. If you buy one piece and enjoy cooking with it, this is a great line to accumulate over time.
Tagines can seem a little intimidating, but I promise, they're not. You don't have to be an expert at making Moroccan meatballs to own this uniquely shaped pot. The secret about tagines is that you can actually use them to cook a lot of things. I make chicken breasts on the stove, braised greens, and even frittatas in mine. And if you do happen to love Moroccan food (I do) then you've got the best pan for it.
Emile Henry Made In France Flame Tagine, 2.1 quart, Charcoal
Short, Distinctive Glassware
It's so soothing to open a cabinet filled with a single kind of glass. These stout, sturdy glasses work for juice, water, and cocktails. In Barcelona you can find them filled with red wine at the many cafés.
Bormioli Rocco Bodega Tumbler Mini Glasses, 7.5 Ounce, Set of 12
The Good Medium-Sized Knife
I once believed that a real cook only needs two knives. A small-ish one for paring, and a bigger chef's knife for everything else including cutting bread. I was given a medium Shun knife as a gift and it changed my mind. The medium size is so elegant for chopping medium-sized veggies, or even fish. The dark wood handle capped in silver is a joy to hold.
If you cook, get yourself a good pair of tongs. They work for frying, browning, grabbing baked potatoes out of a hot oven, tossing salads, lowering corn into boiling water — everything. Cheap ones will do just fine, but I happen to love the designs of Sori Yanagi, and these will work for cooking or serving.
A good set of wooden spoons gets better with age. Sometimes I look for well-worn ones at garage sales, but if that grosses you out you can start with a nice clean set of your own and break them in over time.
Industrial Baking Sheet (and Parchment Baking Sheets)
I have owned the same, large, stainless-steel baking sheets for 20 years. They are streaked with baked-on stains, but they will never die. I use them to roast veggies, bake cookies, and have even used them as a pizza stone in a pinch. The shallow sides make them super-stackable (I store mine in the oven). Line them with parchment for easy clean up, but also because you feel very chef-y when you use parchment.
Nothing elevates basic snacks like crackers and cheese to a higher place than arranging them on a pretty piece of marble or wood. Throw down some grapes and you're basically Martha.
In general I go by the simple rule: Let the food and the company you keep be the most colorful thing in your kitchen. But I would make an exception for this (expensive but worth it) Staub Dutch oven. The first thing I tried in mine was a cassoulet. Since then I've used it at least once a week. It's stained and chipped and I love it even more than I did when I bought it over ten years ago. I expect I will probably have it till I die.
If you buy something through our links, New York may earn an affiliate commission.