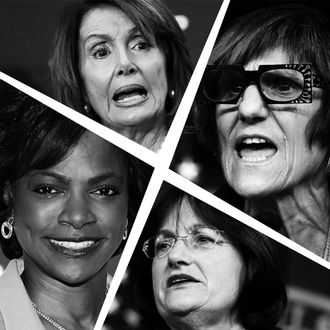 In a testament to the reach of the #MeToo movement, Democratic women in the House of Representatives were inspired by women in Hollywood to wear all-black to tonight's State of the Union address. (Last year, this same group, the Democratic Women's Caucus, wore all-white in honor of women's suffrage president's joint address to Congress the group.)
Many Congresswomen will also wear a red pin honoring Recy Taylor, a black woman who was raped by six white men in 1944, and died this past December.
Members of the Democratic Women's Working Group told the Cut they will be participating in tonight's protest for a myriad of reasons, including #MeToo, the 19 women that have accused President Trump of sexual assault, the crisis of missing and indigenous women, and all of the survivors who have come forward to share their stories.
See all of the Congresswomen's reasons below.
Representative Nancy Pelosi (D-CA)
"We are supporting the brave women in every industry and every corner of the country who are making their voices heard. We are at a watershed moment in the nationwide fight against sexual harassment and discrimination, and we must continue to keep up the drumbeat of action for real change."
Representative Barbara Lee (D-CA)
"I wore black today because I wanted to send a clear and unambiguous message: Sexual harassment and sexual assault is unacceptable anywhere and everywhere. No woman — whether she works in Congress, in a hospital, in a restaurant, on a campus, or on a farm — should have to endure sexual violence. I want women across the country to know that we hear them, we see them, and we will fight for them. Time's up. I am also wearing a Recy Taylor pin. This pin makes a statement that our efforts to end sexual violence are intersectional. And this issue is personal to me. My great-grandmother was a domestic worker who was raped by a white man. This is something that I've known since I was young. So Recy Taylor's painful story is, sadly, a familiar story to many African-American women. In uplifting Recy Taylor's story, we're shedding light on a reality that has been ignored for too long. And this pin is also a commitment, from myself and many others, to ensure that more stories like Recy Taylor's are heard and remembered."
Representative Nanette Diaz Barragán (D-CA)
"I am wearing black to stand with the brave women who have come forward to share their story of sexual assault and say #timesup. I am proud to be part of the #MeToo movement. I've shared my story, share yours. There is a huge amount of work to do to end sexual assault and harassment in the workplace. Much of that work involves changing the culture around these issues to say that sexual harassment and assault are always wrong and that we have to believe women and men who come forward. I will continue to work to make progress on these important issues."
Representative Lois Frankel (D-FL)
"We know that millions of people tune in to the State of the Union so it is an opportunity for members of Congress to show solidarity with the Me Too survivors and to send a message that time's up for sexual abuse and inequality in the workplace, or any place for that matter. There are many of us in Congress who want to be part of the solution."
Representative Betty McCollum (D-MN)
"From retail floors to the floor of Congress, women have faced sexual harassment and been treated as second-class for far too long. As a society, we must say that time's up. The days when inappropriate behavior was tolerated in our workplaces must end, and I hope that joining the Democratic women in Congress wearing black to the State of the Union will send that message loud and clear."
Representative Norma Torres (D-CA)
"I am wearing black in support of the #MeToo movement and all victims of sexual abuse and harassment, including the 19 women who have accused the president of sexual misconduct. As the ranking member of the Subcommittee on Indian, Insular, and Alaska Native Affairs and a member of the Native American Congressional Caucus, I'm working to address the crisis of murdered and missing indigenous women. I've introduced Savanna's Act to help provide tribes with information and resources to protect women and girls from violence, abduction, and human trafficking."
Representative Val Demings (D-FL)
"As a police detective, I investigated sexual-abuse cases. I witnessed the victims' emotional scarring, brokenness, and shame. I join my colleagues and women all over the nation in sending a message to the president and others who have engaged in inappropriate sexual behavior and harassment: your time is up."
Representative Nita Lowey (D-NY)
"I will wear black to the State of the Union to stand in solidarity with the survivors of sexual assault and harassment, and to send a clear message that women of Congress will not tolerate these abuses and will continue to fight for meaningful change."
Representative Ann McLane Kuster (D-NH)
"The #MeToo moment has truly turned into a national movement," said Congresswoman Kuster. "I've been inspired by the courage of Chessy Prout and other survivors of sexual violence, who are bravely using their experiences to let others know they are not alone. By wearing black tonight we are sending a message to the nation that we will not rest until we've changed the all too persistent culture of sexual harassment and violence."
Representative Carolyn Maloney (D-NY)
"The #MeToo movement and the Time's Up campaign are linked by one very important message: unity. In wearing black to the State of the Union, we are saying 'we hear you, we're with you, we are fighting for you.' We must take full advantage of this moment as an opportunity to raise awareness and inspire real, lasting change so that no one needs to say 'me too' ever again."
Representative Grace Meng (D-NY)
"We are in the midst of a cultural movement, and Congress must do more to bring attention to issues of sexual assault and harassment. The Democratic Women's Working Group, led by representatives Lois Frankel and Brenda Lawrence, will be wearing black to the State of the Union in solidarity with victims of sexual misbehavior and as a symbol of our commitment to change. We cannot let the momentum dissipate. We cannot let these issues escape our cultural consciousness. We are wearing black because we refuse to go back. There is only going forward, especially in Congress. Time's Up."
Representative Suzan DelBene (D-WA)
"It has become crystal clear that sexual harassment is rampant throughout all industries in our country. So to show solidarity with all workers who have experienced sexual harassment, I'm wearing black to the State of the Union and saying Time's Up."
Representative Julia Brownley (D-CA)
"I'm wearing black at tonight's State of the Union to stand with workers across the nation who face inequality, harassment, and discrimination. Far too many people have been silenced for far too long, and we will continue to use every platform available to make their voices heard. One area I'm working on to advance gender rights is within the VA. As the Ranking Member of the House Veterans' Affairs Health Subcommittee, I have been focused on increasing access to gender-specific care for the growing population of women veterans so that all veterans receive the benefits they have earned and deserve."
Representative Jacky Rosen (D-NV)
"I'm wearing black tonight to stand in solidarity with the women and victims across the country who have bravely come forward to share their difficult stories. For too long, the culture of sexual harassment has been tolerated and even normalized in our society. It's past time we put an end to this abuse of power."
Representative Rosa DeLauro (D-CT)
"I chose to wear black to the State of the Union in solidarity with the brave women and men who are working every day to eradicate sexual assault and harassment from our society. The stories they have courageously shared must be heard, and they deserve our unwavering support."