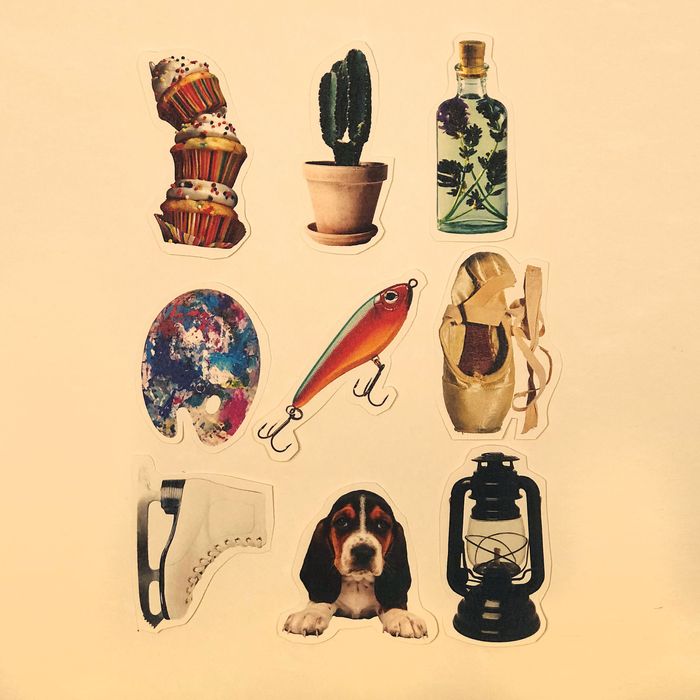 Photo: Photo Illustration

The New Year is the perfect time to finally take up ceramics, learn Mandarin, start a book club, try rock climbing, or plant a garden. In 2018, the Cut has practical advice on trying something new. Make bowls, not just resolutions.
Outside of work, what do you do? What else would you like to be doing? Freshly inspired by women who have written about their hobbies here on the Cut and elsewhere, we present this "Get a Hobby" starter kit for anyone looking to try something new. Below, you'll find 20 activities to test-run for your own personal enjoyment (or failure!), with links and helpful suggestions from people who have tried these diversions before.
Want to become a domestic goddess like Nora Ephron or Maya Angelou? See our cooking advice in item no. 4. More ideas on pets, floral arranging, and even fishing appear below.
1. Learn a Language Online
After writing about the lives of young women in Saudi Arabia, the Cut's news editor Jessica Roy started learning Arabic with the language-learning website Italki. "Italki connects you with native speakers around the world who teach language classes over video chat," she says. "It's much more affordable than classes in New York, and I love being able to contribute to the teacher's local economy." Instructors set their own prices, so costs per class vary. Jessica paid $15 for a one-hour class.
2. Apartment Gardening
Yes, millennials are obsessed with houseplants. But how do you keep them alive (meaning: sunlight versus water?), and which ones should you buy? Jazmine Hughes, associate editor at The New York Times Magazine, recommends the resilient heart-shaped leaves of a pothos. "Under conditions that would murder most living things, a pothos is liable to reach between six and ten feet if kept in its container," she wrote. Our editors suggest starting with the YouTube video "Apartment Living: Ten Tips for Indoor Plants." We also talked to the manager of the trendy Brooklyn garden and flower shop Sprout Home for a list of stylish garden accessories. (If you choose a cactus, here's how to not kill it.)
3. Floral Arranging
Perhaps you long to be an Instagram florist or a chic flower farmer like the sensationally successful Erin Benzakein of Floret Flowers. Two excellent goals! For beginners, we suggest freakebana, the new ugly-cool style of arranging whatever the hell you want. As coined by the Cut's president and editor-in-chief Stella Bugbee, freakebana is a cousin of ikebana, a traditional Japanese art form. "[Freakebana] components are more likely foraged from the corner deli, as opposed to a Shinto garden," she wrote. "Say: pink carnations, cubes of jello, an air plant, and Maldon salt crystals."
4. Cooking, Baking, Entertaining
Become a domestic goddess like Martha Stewart, Ina Garten, Maya Angelou, and Nora Ephron by learning how to cook and/or bake for yourself and for your friends. For beginners, Stella recommends these 12 stylish, basic kitchen utensils. Consult our feminist cookbook for recipe ideas, or learn how to bake bread with this YouTube tutorial.
Or: Just fake an expensive dinner party with this handy guide from the Cut's senior fashion market editor Diana Tsui. Her pro tips: Buy gold spray paint. Get a pretty cheese plate.
5. Ceramics
Brooklyn's hippie urban clay-makers turned the meditative hobby into a flourishing profession. Our editors recommend the tutorial videos on Tortus Copenhagen. Here is everything to buy to at least look like a ceramist, including artsy coveralls to wear at the wheel and the right nail brush.
6. Meditating
A psychologist told us to start meditating for just five minutes with this simple technique: Inhale and count to four, hold at the top of your breath for two seconds, exhale for four seconds, and hold the breath for two more seconds. Repeat. Read her guide for easy ways to start meditating at home.
7. Hiking and Camping
Before following in Cheryl Strayed's footsteps like thousands of people did after the publication of Wild, try camping with strangers on a New York City rooftop with Bivouac, a free urban camping event series (bivouacnyc.com). If you decide to go out and rough it in the actual wilderness, here are the best hiking accessories and outdoor tents to buy.
8. Knitting
Pussy-hat owners and cashmere enthusiasts can start knitting with this 20-minute step-by-step YouTube tutorial "How to Knit: A Complete Introduction for Beginners," recommended by our editors. Soft, bespoke cashmere yarn is the most luxurious way to go.
9. Improv
Embarrass yourself and take an improv class to learn to think fast, trust yourself, and connect with an audience. Plus, we hear it's actually fun. New Yorkers can take a class at the Upright Citizens Brigade Training Center (our editors recommend the class called "Improv 101: Improv Basics"). And anyone can start with the YouTube video "The Business: Improv & Sketch Comedy," which introduces improv training techniques and styles.
10. Pets
If you dream about rescuing kittens for a living, maybe this year you have the time and/or money and/or space to adopt a pet. Visit the Humane Society and Animal Care Centers of NYC to start looking. Then, after you become that obsessive pet owner, use this guide for must-have collars, toys, bathtubs, and more pet accessories.
11. Painting
Paint a piece of paper, your toenails, or the walls in your home with these 39 paint colors, as recommended by artists and professionals. Their favorite pigments replicate Hermès orange, permanent lemon, and soft elegant pastels reminiscent of Agnes Martin's beautiful retrospective at the Guggenheim Museum. For a simple option, try this TSA-approved watercolor set. We suggest the YouTube tutorial "How to Paint a Simple Landscape in Watercolor," followed by a Saturday afternoon at the park.
12. Singing
For a splurge, take a singing lesson with celebrity New York City–based voice coach Liz Caplan, who has advised people like Amanda Seyfried, Hugh Jackman, and Dear Evan Hansen's Ben Platt. Here's her trick for Hollywood stars who need to learn how to sing really fast, like when Seyfried had three weeks to prep for an audition: Sing while doing something else. Caplan had her sing while jumping on a trampoline or running on a treadmill. Nice!
13. Snowboarding
'Tis the winter season and even Vogue is on the snowboarding bandwagon: The magazine recently launched a line of streetwear-chic snowboarding clothes with Burton and Virgil Abloh's Über-hip label Off-White. Shop this guide for more of the best ski and snowboarding gear.
14. Dancing
So many options (ballroom dancing, hip-hop dancing, ballet …), but what to wear? First, consider the look you're going for. To shop neutral, earthy tones in breathable fabrics, here's how to look like an Alvin Ailey dancer. For an upscale aesthetic with pretty accessories, dress like this ABT ballerina.
15. Fishing
The rise of urban anglers is best experienced at Brooklyn Fishing Club, "a new hub for fishermen and -women to meet and show off their striped-bass Instagrams," according to Alex Vadukul. Take a look at Brooklyn Fishing Club's Instagram and you will quickly learn there are apparently many men to meet, women who presumably would love company, and plenty of beautiful views on the water. Find the fisher-people and learn the basics here.
16. Adult Coloring Books
Kate Middleton loves adult coloring books. Plenty of other adults and neuroscientists agree with her. "In part, it's a way for people who have never felt very artsy to literally add some more color into their lives," Jordan Gaines Lewis, a science writer and neuroscience PhD, wrote for the Cut. "Not everything we do must be in pursuit of productivity." So: Pull a Lisa Frank and get started on Amazon or with The Broad City Coloring Book.
17. DJing
Are you looking for a record player? "Don't buy a record player," the Strategist's senior writer Lauren Schwartzberg wrote. "Turns out what you actually want is a turntable." Professional DJs gave her their best recommendations in every price range here.
18. Playing Piano
Check secondhand stores and you might actually find a piano small enough for an apartment. (One of our editors did.) For in-person lessons in New York, we recommend the "Piano for Absolute and Utter Beginners" class at Bloomingdale School of Music in the Upper West Side. Watch the YouTube tutorial "Learn to Play Piano Instantly" for a shortcut number system that will help you learn to play the piano faster.
19. Skateboarding
Skater girls are now too cool for the boys, at least when it comes to the Brujas ("the witches"), a band of New York girls who skate and party together in the Bronx. If you're in New York, our editors suggest learning with Skateyogi's adult beginners drop-in class at Skate Brooklyn. Before trying out your first tricks, watch this "Show Me the Way" Transworld skate video.
20. Jigsaw Puzzles
Puzzles are either a timeless, intellectually invigorating family activity or a maddening assignment from hell. For those who feel the former, buy one of these 1,000-piece jigsaw puzzles inspired by Nashville and Vanity Fair to get particularly ambitious.