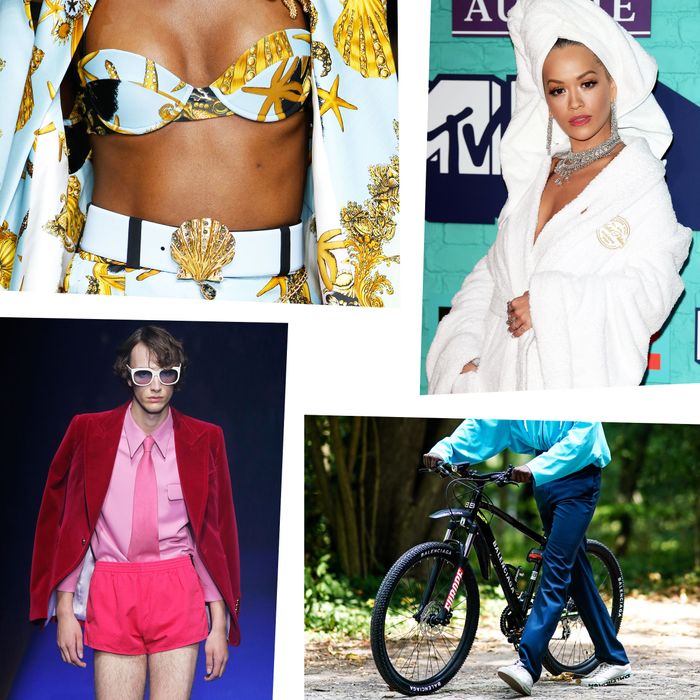 It's only day two of 2018, but there's no time like the present to get ahead of trends.
We've got a lot of ideas about how to be our best selves this year, or at least look like our best selves. So leave your ugly sneakers, glitter boots, apocalypse frocks, clout goggles, graphic T-shirts, and for god's sake, millennial pink behind.
If last year was all about self-care, this year is all about putting the new and improved you out there. It's about adapting, about redemption, and above all, about being your freakiest self and not apologizing for it.
Below are 18 trends to try in 2018. Next year, you'll be telling everyone, I told you so.
1. Socks are the new T-shirts
You've said everything that needs to be said on graphic T-shirts. Let your ankles do the talking this year with a pair of aggressive slogan socks. Match with sock sneakers.
2. Spaghetti
Supermodels agree: Wear it on your naked body. Moisturize with red sauce and rewatch The Sopranos.
3. Key chains are the new fanny packs
Hang valuables from your belt loops with a Saint Laurent clip. Or wear key chains as a belt, like Balenciaga models. You'll need both your hands this year.
4. Riding a bike
We know you don't skateboard and the subway is broken. (Try wearing Off-White bike shorts to a black tie event, or Alexander Wang x Adidas to your next rave.)
5. Having friends not your age
This is the secret to clout. Make your own committee of advisers, like Gucci did. Young people, find adults who will give you their dadcore hand-me-downs and crocheted vests. Adults, find young people who can explain bitcoin.
6. Zip-off pants
Life moves pretty fast! (See: Balenciaga Spring 2018.)
7. Bathleisure
Celebrities like Rihanna and Rita Ora are reclaiming the bathrobe. It's vintage Versace meets working from home. Wear a towel around your head instead of a beret.
8. Checking the weather
Plastic boots and waterproof anoraks were all over the Spring 2018 runways, from Chanel to Calvin Klein. It's going to rain this year; embrace it.
9. Talking about money
Balenciaga showed U.S. dollar bill and Euro prints for spring and Vaquera showed a dress made of credit cards. Author Mary H.K. Choi also made a case for talking about money with this viral tweet.
10. Freaky is the new ugly
Take freakebana one step further to mean the "art of wearing whatever the hell."
11. Ice skating
Gucci skating costumes plus I, Tonya plus the Winter Olympics equals a reason to get into sports.
12. Melodramatic purple is the new millennial pink
Just ask Lorde.
13. Booty shorts
Gucci, Dior, and Prada all showed short shorts for men this spring. But Call Me by Your Name made the best case for showing some hairy upper thigh.
14. Pelvic bones
Thong leotards have replaced thong bathing suits for everyday use. (See: Lady Gaga in Five Foot Two.) Also, bones in general are trending. (See: Thom Browne's Spring 2018 skeleton look and Oscar de la Renta's Pre-Fall 2018 fish-bone gown.)
15. Immodesty
Kendall Jenner hasn't worn a T-shirt that goes below her under-boob in months. It's a rebellion against that modest-looking $450 Creatures of Comfort dress that went viral last year.
16. Shells are the new sequins
Rosie Assoulin's Spring 2018 collection included embroidered shell motifs and actual shells sewn onto bags. Versace revived its vintage shell print. Plus, a fantastical mermaid walked the most recent Thom Browne show.
17. Finding yourself in the woods is the new crying in the desert
Justin Timberlake and the Rodarte sisters agree about this iteration of gorpcore. (Pack a Patagonia fleece if you ever go on that hike you talk about so much.)
18. Optimism
We can only go up from here, right?