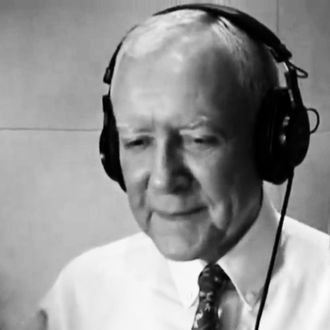 DJ Hatch.
Photo: Courtesy of YouTube/MICHELLE WILLIAMSON
On Tuesday afternoon, Republican senator Orrin Hatch of Utah announced he would be retiring at the end of this term, and that's big news — not just because it opens the way for sentient-wedding-cake-topper Mitt Romney to run for his seat, but because it will give the 83-year-old more time to focus on his true passion: music!
Yes, as reported by the Washington Post, Orrin Hatch is an accomplished songwriter and lyricist who has written hundreds of songs, and self-released more than a dozen albums of professional singers performing his songs. He even reportedly made $39,000 in royalties in 2005.
Hatch, a Mormon, was encouraged to begin songwriting by the popular Mormon songwriter Janice Kapp Perry, who approached him in 1996 and asked him to write hymns with her. He agreed, and Hatch Hits (for some reason he does not call them that) were born.
While most of Hatch's songs are about America, and Jesus, and they all sound the way Thomas Kinkade paintings look, each Hit truly has its own unique style and flair. Here is a collection of Orrin Hatch songs for any mood that might strike you.
For a lit pregame
Pregames are all about the bangers — songs that will get you hyped enough to willingly take tequila shots and dance in public even though you look like one of those blow-up tube men outside of car dealerships. And "America Rocks!" is nothing if not a banger.
Performed by the Osmonds Second Generation, which is, as the name suggests, a second generation of the Osmond family, the song is spunky, fun, and features these great lines: "America rocks! From its busy bustling cities to its quiet country walks, America rocks! It's totally cool, it's totally hot, I mean it's like right there at the top, America rocks!"
Yeah!
For Sex
Sure, Billy looks like he's in eighth grade, but damn if Hatch didn't write a bangin' love ballad perfect for quietly doing the missionary position under the covers with all the lights off.
"Your love is like a river, it runs through my heart and soul. It's deep when I'm thirsty, and warm when I'm cold," Billy sings. Nice.
For working out
This song starts with a guy saying how he may "sail across the ocean to far-off foreign shores," which is weird because people mostly just fly on airplanes now, but then he talks about how when he gets back, his "heart and soul will burn when once again I see our flag unfurled."
I dare you not to get amped!!
For after a breakup
So, you're heartbroken. What better way to mourn and heal than to remember there are many different roads you can take in life? Like, for example, a combo Senate/songwriting career.
For when you're embracing the inevitable passage of time
This song features the line "But who would bother now to come? An old-folks home is not much fun," which is extremely sad.
For when it's Hanukkah
Pretty self-explanatory, but also this video features Hatch in the studio and is really a must-watch.