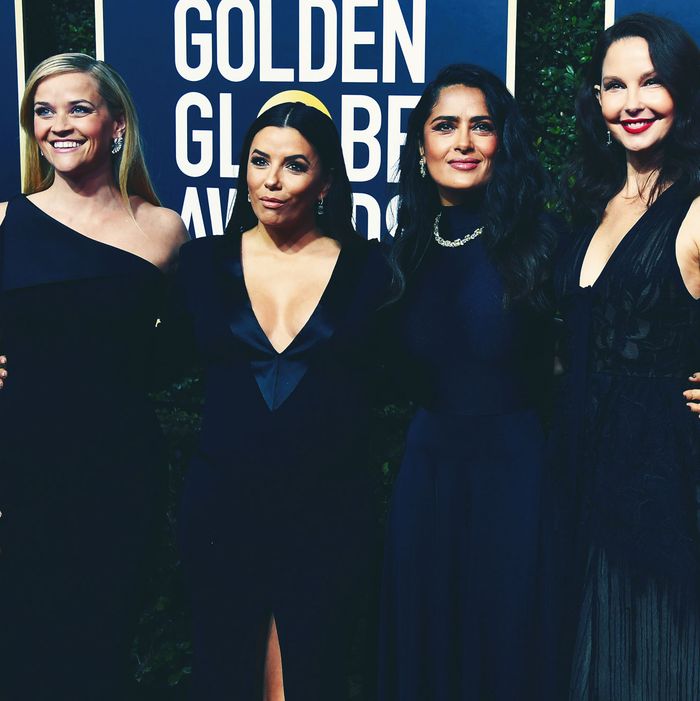 We're officially through the the first awards show of 2018, which was replete with tear-jerking acceptance speeches, a million references to Hollywood's ongoing conversation about sexual harassment and, of course, there was Oprah. This year's Golden Globes, with its political messaging in this post-Weinstein world, was an awards show unlike any other. Below, the eight moments that defined it:
All black everything
With the exception of Hollywood Foreign Press Association president Meher Tatna — who made a powerful statement of her own — nearly everyone donned black tuxes and dresses to protest sexual harassment and stand in solidarity with its victims. The decision to wear black was promoted by Time's Up, the initiative supported by hundreds of powerful figures in Hollywood that seeks to combat sexual harassment in the entertainment industry and beyond.
Celebrities taking digs at E!
E! News correspondent Catt Sadler announced she was leaving E! network a few weeks ago because of the "massive" pay gap that existed between her and her male co-host, and celebrities were quick to remind Giuliana Rancic and Ryan Seacrest … on E! Debra Messing, Eva Longoria, and Sarah Jessica Parker were among the celebs to defend Sadler, leaving Rancic and Seacrest feeling pretty awkward.
"I was so shocked to hear that E! doesn't believe in paying their female co-hosts the same as their male co-hosts," Messing said. "I miss Catt Sadler, and we stand with her."
Activists were on the red carpet
Eight actresses hit the red carpet with activists who represent a wide range of fields and specializations: Tarana Burke, the founder of the #MeToo movement; Billie Jean King, who founded the Women's Tennis Association; Marai Larasi of Imkaan, a U.K.-based black feminist organization; Rosa Clemente, an organizer; Ai-jen Poo of the National Domestic Workers Alliance; Mónica Ramírez of national farmworker women's organization Alianza Nacional de Campesinas; Calina Lawrence, a native activist; and Saru Jayaraman of Restaurant Opportunities Centers United.
Seth Meyers's monologue
All things considered, Meyers did a pretty good job with his monologue at the beginning of the show, during which he took jab after jab at accused sexual predators Harvey Weinstein and Kevin Spacey, and really all men.
"I was happy to hear they're going to do another season of House of Cards," he said. "Is Christopher Plummer available for that, too? I hope he can do a southern accent because Kevin Spacey sure couldn't."
Winona Ryder's L'Oréal commercial
L'Oréal Paris premiered a Golden Globe–worthy commercial for Elvive shampoo in which Winona Ryder's career is compared to damaged hair. It's worth watching.
Oprah
The show should've ended with Oprah Winfrey's acceptance speech for receiving the Cecil B. DeMille award. "What is it about Oprah that makes her so extraordinary?" Reese Witherspoon asked in her introduction, which was followed by an powerful video that outlined precisely what makes Oprah, Oprah.
While you should absolutely watch it for yourself, here's one of Oprah's quotes as a little preview: "I want all the girls watching right now to know that a new day is on the horizon, and when that new day finally dawns, it will be because of a lot of magnificent women, many of whom are right here in this room tonight, and so many phenomenal men fighting hard to make sure they become the leaders who take us to the time when nobody ever has to say 'Me too.'"
Stedman sightings
The next definitive moment — well, person — was the one by Oprah's side all night. Stedman Graham, Oprah's longtime partner, is not often in the spotlight, but every moment he appeared onscreen with an awestruck stare and open mouth was a gift.
… and here are the all-male nominees
Natalie Portman pulled off a great subtle critique of Hollywood's sexism problem when presenting the award for Best Director, in which she introduced the contenders with, "… and here are all the male nominees." It was just one of the righteous lines of the night.