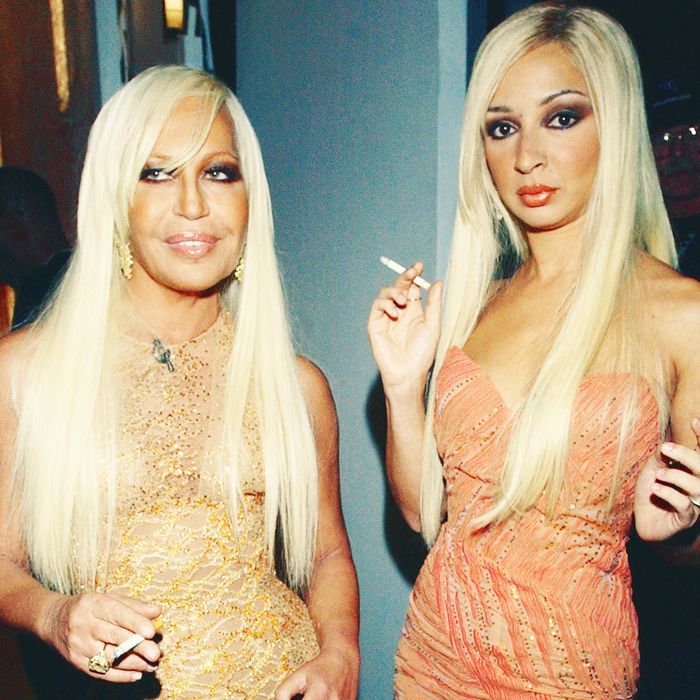 Donatella Versace (Left) with Maya Rudolph (Right).
Photo: KMazur/WireImage
Actors seem to particularly relish playing fashion designers. At varying degrees of ridiculous, Hollywood has given us Zoolander's maniacal, latte-spitting villain Mugatu (Will Ferrell), Prêt-à-Porter's smoldering Simone Lowenthal (Anouk Aimée), and the critically-acclaimed Daniel Day Lewis in Phantom Thread.
Donatella Versace is one designer who has received both the high and low treatment, most recently in Ryan Murphy's much-anticipated second season of American Crime Story: The Assassination of Gianni Versace, which premiered last night on FX. After all, what's more fun for an actor than a character who is perpetually styled, affected, and larger-than-life?
To honor the many faces of fashion's most enduring prima donna, we present a definitive ranking of the best Donatella Versace portrayals in recent history.
6. Miss Fame on Drag Race, Season 7 (2015)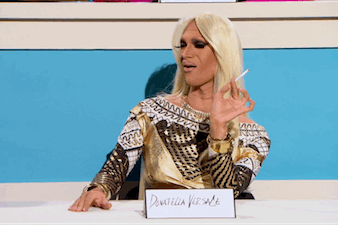 Miss Fame battled fellow competitor Violet Chachki for the exclusive right to do Donatella on the seasonal celebrity impersonation competition, "Snatch Game." But she failed to get laughs, or to maintain an accent that didn't veer into Eastern European territory for most of the game. Had it not been for her shimmering platinum weave, Fame would have been sent packing.
5. Gina Gershon as Fabia in Ugly Betty (2006)
Fabia, the cosmetics mogul/frenemy of Wilhelmina (Vanessa Williams), might only be loosely based on Donatella — but the portrayal is absurdly satisfying. She flits in and out of the first few seasons of Ugly Betty, bringing with her a toy dog, a series of over-the-top threats, and an ageless face she attributes to injectable duck semen.
4. Lady Gaga as "Donatella" (2013)
While Gaga fans were disappointed that she wouldn't play Donatella in American Crime Story, the singer has already contributed her fair share of impersonations. In 2013, she appeared in ads for the brand, looking uncannily Donatella-like with flowing platinum locks and bleached brows. The same year, she released "Donatella," a fairly reductive fashion anthem including verses like, "Walk down the runway, but don't puke. It's okay, you just had a salad today," and "Just ask your gay friends for advice before you get a spray tan on holiday in Taipei."
3. Gina Gershon in House of Versace (2013)
Gershon delivers another one of her over-the-top, campy characterizations in Lifetime's retelling of Versace's rise, fall, and comeback. She's relentlessly fish-lipped, indiscernible, and over-the-top, especially in the middle of a cocaine-fueled meltdown. And while her portrayal was unanimously panned, mostly for the accent, it bears flagging that Gershon has admitted to dumbing it down for Lifetime audiences. "If it was up to me, it would have subtitles," she told Larry King.
2. Penélope Cruz in American Crime Story: The Assassination of Gianni Versace (2018)
Cruz adds some serious acting credibility to this motley crew, and if last night's premiere was any indication, her performance is as spotlessly over-the-top as Donatella herself. In a muddled contralto, she oscillates between grief-stricken and fierce, and if her accent is not quite Calabrian, she makes up in passion what she lacks in accuracy.
1. Maya Rudolph on Saturday Night Live (2001–2003)
While most of what makes this impression indelible can be directly attributed to the genius of Maya Rudolph, some of it is due to the early aught fascination with the fashion world at its most flashy (see: Project Runway, The Devil Wears Prada, The Hills and so on). The perfect blend of brash and languid ("Who is that zombie in the fabulous gown? Hey, it's me, Donatella Versace."), Rudolph's take is certainly a departure from the real designer. Which must be the key to the Versace stamp of approval — Donatella herself appeared alongside Rudolph on many occasions, most notably at the 2002 VH1 Fashion Awards.