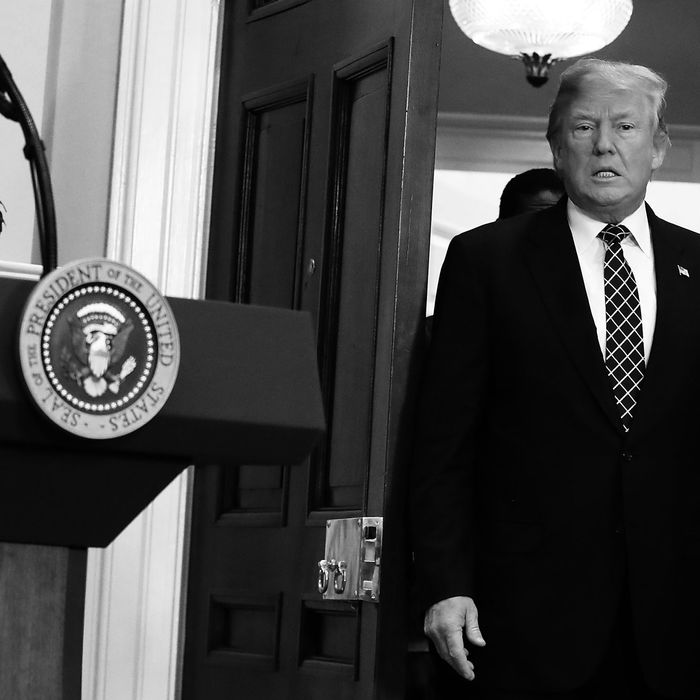 Donald Trump.
Photo: Mark Wilson/Getty Images
At a celebrity golf tournament in July 2006, Donald Trump had an alleged sexual encounter with former adult-film star Stormy Daniels, an incident that prompted Trump's lawyer Michael Cohen to pay Daniels $130,000 to stay silent. Had Trump's night in 2006 gone as reportedly planned, though, Cohen might've had to pay an additional sum of money. According to the Daily Beast, another adult-film star was allegedly invited to Trump's hotel room that same night.
The second adult-film star, Alana Evans, was Daniels's neighbor and close friend who happened to be in the Lake Tahoe area near the tournament. The day of the alleged sexual encounter, Daniels apparently told Evans that she and Trump had plans to meet later that night, and that Evans was invited.
The Daily Beast reports that Daniels, whose given name is Stephanie Clifford, called Evans incessantly that night.
"Stormy calls me four or five times, by the last two phone calls she's with Donald and I can hear him, and he's talking through the phone to me saying, 'Oh come on Alana, let's have some fun! Let's have some fun!'" Evans told the Daily Beast. "Men like him scare me because they have so much power and this was way before his presidential nomination. So I bailed on them and turned my phone off."
The next morning, Evans said she checked in with Daniels to hear how the night went, to which Daniels allegedly responded, "Picture him chasing me around his hotel room in his tighty-whities." Evans told the Daily Beast that Daniels also said Trump offered her a set of keys to his Florida condos.
While neither Daniels nor the White House responded to the Daily Beast's request for comment, Cohen told The Wall Street Journal yesterday, "President Trump once again vehemently denies any such occurrence as has Ms. Daniels."