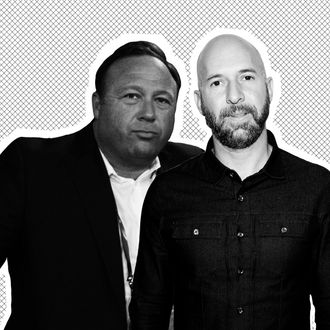 Alex Jones, Neil Strauss.
Photo: Getty Images
Though far-right conspiracy theorist and InfoWars founder Alex Jones's preferred medium appears to be "screaming into the camera while removing shirt," it appears that he's branching out from that and working on another book. (He's already the esteemed author of such works as 9-11 Descent into Tyranny: The New World Order's Dark Plans to Turn Earth into a Prison Planet.) And his reported partner on this literary venture? None other than journalist-turned–pickup artist named "Style"-turned best-selling author of The Game–turned repentful nice guy Neil Strauss. Congrats, we just made it through the world's worst game of Mad Libs together!
CNN reports that they've obtained a proposal for the book — The Secret History of the Modern World & the War for the Future — which Strauss's agent, Marc Gerald of United Talent Agency, has been sending to publishers. UTA has denied that they're representing the book.
The 27-page proposal reportedly describes the book as one "about the front lines of the war for your mind" that "will be like the moment you first discovered sex or the Internet or quantum physics." It continues with some fear-mongering about how "there is a conspiracy that, no matter who you are, you have to admit is true. There is a war for your mind. A war to make you docile. A war to make you a sheep. A war to take away your initiative, your freedom, and your control over your own life." Also, there's some stuff about aliens and "human-pig hybrids," naturally.
Presumed future chapters include "Why Chobani Yogurt Is for Beta Males" and "How to Neg and Seduce the Leaders of the New World Order."
Update: A knowledgeable source tells the Cut that "the initial outreach to some publishers was made by an individual agent in the agency's NY-based publishing division without having consulted internally."