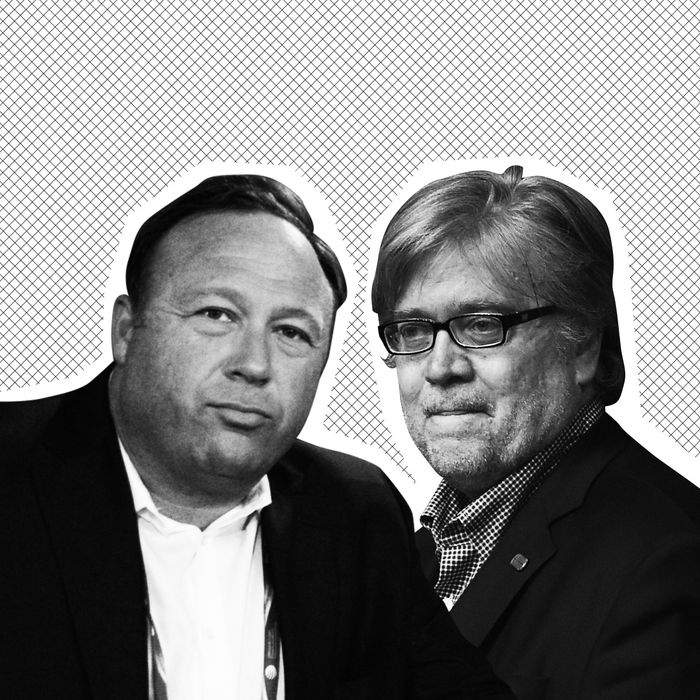 Alex Jones and Steve Bannon.
Photo: Getty Images
Wow, it's so hard to watch beautiful people fight.
As the feud between the Trump family and former presidential adviser Steve Bannon rages on, founder of the far-right website Infowars and frequently shirtless conspiracy theorist Alex Jones has come out swinging for the president. During his hour-long Infowars broadcast on Wednesday, Jones had some harsh words for Bannon. Per the Daily Beast:
Let this be his political tombstone here. For all the failures. As soon as his little thing in Alabama failed, this happened. Let it be marked as cancer and we move on. And I hope Breitbart reconstitutes and continues its overall good mission. I don't like having to do this but I need to put a fork in it when it's done.
He didn't stop there, though. He added that Bannon looks "like he has organ failure," and like he's "been run over by a truck with dandruff all over him," though it is unclear whether Jones meant that the truck dumped dandruff all over Bannon during the collision, or whether Bannon was already covered in dandruff prior to the accident.
Bannon, the executive chairman of Breitbart News, has come under fire from the president and members of his family this week, after he was quoted in Michael Wolff's highly anticipated new book as calling Donald Trump Jr. "treasonous" for taking a meeting with a Russian lawyer during the campaign. Donald Trump Jr. responded by agreeing that Bannon tries to S his own D.
So many beautiful men saying such ugly things about each other.