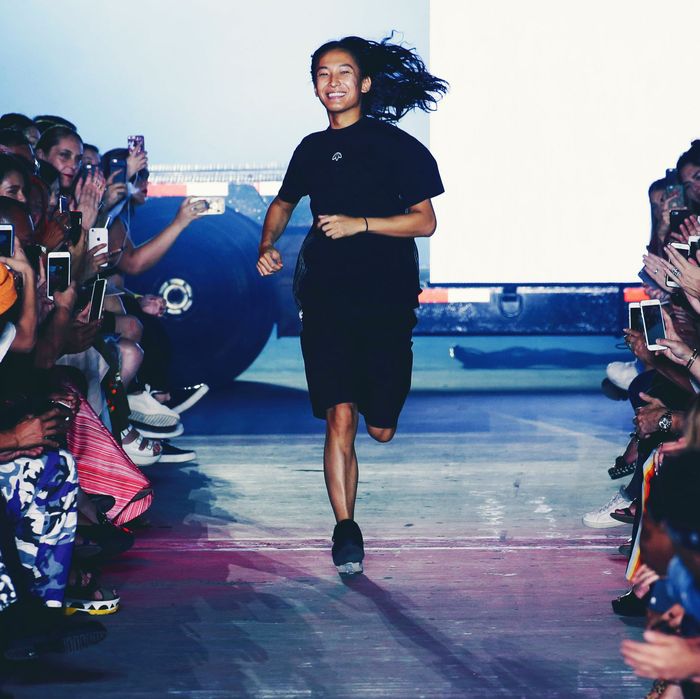 Photo: JP Yim/Getty Images
Another major designer is leaving New York Fashion Week, but at least he's not leaving for Paris. Alexander Wang, who hosts perhaps the most fun fashion show (and after-party) of the season, announced today that his brand will no longer show during the September and February New York Fashion Weeks.
However, he's not leaving the calendar — or city — entirely. Beginning this summer with his spring 2019 collection, Wang will show in June and December, or during "pre-collection." In addition to leaving Fashion Week, he will consolidate the pre-collections and main collections.
New York Fashion Week is slowly losing designers of Wang's caliber. Rodarte and Proenza Schouler joined Paris Couture Fashion Week last year, Altuzarra left for Paris Fashion Week, and Rag & Bone suspended their shows. Perhaps to counteract this trend, Women's Wear Daily reported that the Council of Fashion Designers of America was exploring a "hypothetical" addition of an official pre-collection Fashion Week as early as this summer. CFDA president and CEO Steven Kolb confirmed that they had spoken to Wang about the idea.
Wang recently stepped down as CEO of his label, ceding to former Goop and Martha Stewart exec Lisa Gersh. But maybe the change isn't sad news — maybe it just means a summer Wangfest. Even if it doesn't, Wang will still host one last rave show on February 10 at an undisclosed location.