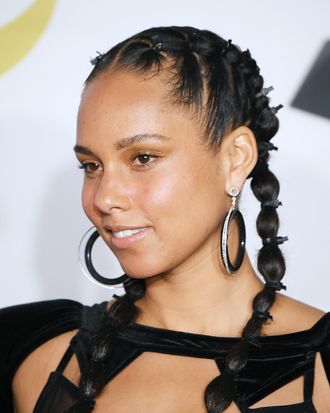 Alicia Keys at the 2018 Grammys.
Photo: Steve Granitz/WireImage
The latest stop on Alicia Keys's "incredibly smooth skin tour" was last night's Grammy Awards. There, the singer wore next to nothing on her face (if you squint you might see what looks to be some sort of gloss on her eyelids).
Keys described the thought-process behind her decision to go makeup-free in 2016 with an essay in Lenny Letter. "I don't want to cover up anymore," she wrote. "Not my face, not my mind, not my soul, not my thoughts, not my dreams, not my struggles, not my emotional growth. Nothing."
You might recall that Adam Levine, Keys's co-star on The Voice, raised doubts on her commitment to going makeup-free last year (Keys's reply: "I do what the fuck I want"). But there's no doubt about one thing here: Alicia Keys has really great skin.