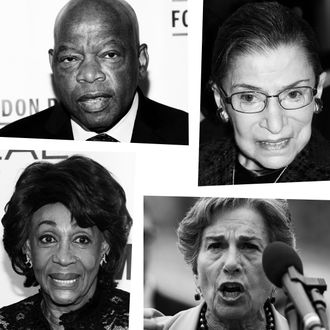 On Tuesday night, President Trump will give his first State of the Union address, during which he's expected to discuss his first year in office and what he has achieved in that time, as well as his plans for the future. The speech will be given to members of Congress — at least, those who choose to show up. Due to, uh, recent events, many members of Congress (and one Supreme Court justice) have decided to boycott the event altogether.
Other attendees will take a note from the entertainment industry and stage a silent protest. Many lawmakers, including Nancy Pelosi, will be attending, but wearing black, in solidarity with movements such as #MeToo and Time's Up. Some congresswomen are even planning to bring sexual-harassment survivors and activists to the event, à la the Golden Globes.
Here is everyone who will not be attending the SOTU:
Jan Schakowsky, Democratic U.S. Representative
Jan Schakowsky, who also ditched Trump's inauguration last year, announced in a statement on Friday, "I refuse to normalize President Donald Trump and his loathsome language and actions." According to the Chicago Tribune, the Illinois rep made the decision to skip the address based on her constituents who asked her to "resist" and "boycott" the speech.
Frederica Wilson, Democratic U.S. Representative
On Monday morning, Frederica Wilson told CNN that going to the State of the Union "would be to honor the president and I don't think he deserves to be honored at this time." The Florida representative referenced Trump's "shithole countries" comment in her decision. Wilson's outspoken distaste for Trump is not new: Their public feud began back in October, after she claimed that Trump had told the widow of a soldier killed in combat that her husband "knew what he signed up for," which Trump later denied in a tweet.
John Lewis, Democratic U.S. Representative
John Lewis joins a growing group of political leaders skipping Trump's speech on Tuesday in the wake of his comments regarding "shithole countries." The Georgia representative told MSNBC's Katy Tur that he does not plan on attending the State of the Union: "I cannot, in all good conscience, be in a room with what he has said about so many Americans."
Maxine Waters, Democratic U.S. Representative
The California representative told Chris Hayes on MSNBC she wouldn't be attending Trump's State of the Union speech after his vulgar statement about African countries. "Why would I take my time to go and sit and listen to a liar?" she said on All In With Chris Hayes. "He does not deserve my attention."
Earl Blumenauer, Democratic U.S. Representative
The congressman from Oregon took to Facebook to announce his decision to skip the address, saying, "Hearing from Oregonians and working together to protect our values and advance policies that actually strengthen our communities is a more productive use of my time." Instead, Blumenauer will send an Oregon Dreamer to the speech in his place, "to remind Trump that these are real people with families and jobs, who are vital to our communities. They deserve certainty and protection."
Ruth Bader Ginsburg, Supreme Court Justice
While the members of the Supreme Court usually attend the State of the Union along with Congress, Ginsburg is currently on a speaking tour around the country, with a talk scheduled in Rhode Island on Tuesday, the day of the address. She hasn't officially confirmed that she is skipping the address, probably because she doesn't talk about Trump in public anymore.
Pramila Jayapal, Democratic U.S. Representative
The Washington Congresswoman wrote of President Trump in a Medium post, "His path is dangerous. His path is destructive. His path cannot be normalized. I will not normalize it." She ended the post by saying that she doesn't want to, "send mixed messages  —  to him or to the millions of people he demeans," and for that reason she will not be attending his address.
Bobby Rush, Democratic U.S. Representative
According to the Chicago Tribune, Rush, an Illinois Congressman, said in a statement on Monday, "This has been the most chaotic, divisive, and incompetent first year of any administration and I will not sit and watch as Trump pretends that he's off to a successful start. He's not."
Danny Davis, Democratic U.S. Representative
Davis is the third member of Congress from Illinois who is choosing not to attend Trump's speech saying, "I cannot in good conscience stand silently by and watch generations of struggle for equal rights, for civil, human, and voting rights, for the rights of women, for social and economic justice be undone from the highest office in the land."
Gregory Meeks, Democratic U.S. Representative
Like many other lawmakers, Meeks's reasons for skipping the SOTU includes Trump's recent vulgar remarks regarding African countries. The New York Congressman told MSNBC, "I cannot give this man, who does not respect me, the respect to be in that audience."
Albio Sires, Democratic U.S. Representative
Sires, a Cuban immigrant, also cited the president's "shithole" comment in his explanation for why he won't be attending Trump's address. A spokesperson for the New York Congressman said, "The congressman is not attending the State of the Union because many of his constituents are offended by the president's rhetoric and behavior."
This post will be continuously updated as more lawmakers announce their intention to skip the SOTU.